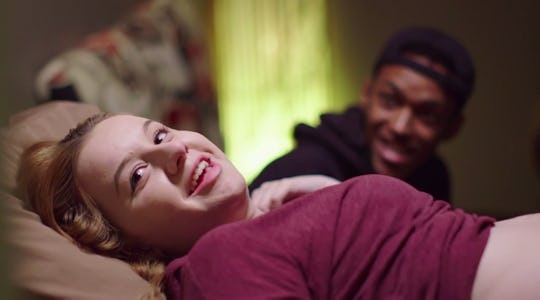 MTV
Kayla's Journey To Motherhood Begins On 'Teen Mom: Young And Pregnant'
Over the past several years, the whole Teen Mom franchise has blown up, resulting in a spin-off series that's done just as well as the original with a whole new set of young moms. And now MTV is bringing viewers Teen Mom: Young and Pregnant, along with a handful of new, young moms with new stories to follow, including Kayla Sessler. But who is Kayla on Teen Mom: Young and Pregnant? She's 18 years old and the story of her pregnancy will play out throughout the course of the show's first season.
Above anything, Kayla is realistic about what it means to be having a baby at such a young age. In her casting video, she is totally honest about not only her feelings regarding being a mom, but also how it will impact her life moving forward. "I'm still going to be successful, but having this baby so young is going to make it a lot harder. This is now how I wanted my life to go. This is not how I planned for it," she says in the video. "Yes, babies are cute, but they're gonna be a lot of work. This is not easy — I don't recommend it."
According to Kayla's MTV bio, she was raised by a single mother, so she more than likely knows the struggles and reality of having a child at a young age and potentially raising that child alone.
Although Kayla had been with her baby's father, Stephan, for three years prior to finding out she was pregnant, the show will likely dive into his reputation as an alleged cheater. It wouldn't be the first time one of the stories in the Teen Mom franchise dealt with difficulties of relationships after an unplanned pregnancy by any means, but Kayla's story is still one that other young single moms will no doubt be able to relate to.
Judging by what appears to be her Instagram, she may or may not still be with her baby Izaiah's father at this time. Although there are videos of her baby with Stephan, there are a ton of pictures of just Kayla or just Kayla and her new baby, so as of right now, it could go either way.
At one point in the trailer for Teen Mom: Young and Pregnant, Kayla says, "If I wasn't pregnant, you wouldn't even be here right now," followed by a clip of her friend, presumably, who said that he already cheated on her once before, so the topic of Kayla's boyfriend's faithfulness during and after her pregnancy is bound to come up a lot during the first season of the show.
Just like 16 & Pregnant, which came long before Teen Mom and every other show in the franchise, this new MTV series will once again show the late night feedings, diaper changes, and general parenting obstacles that come along with being a new mom while also being so young and, in some case, on your own during the whole process.
Some of the young women on the show have support systems behind them, but as any mom can attest to, that doesn't always make it easier to be a mom yourself. Luckily, Kayla seems to know some of what she's getting into, as she was raised by a single mom herself, but she's also going to be proof to the many viewers who will no doubt be tuning in that being a young mom is in no way easy.
Check out Romper's new video series, Romper's Doula Diaries:
Watch full episodes of Romper's Doula Diaries on Facebook Watch.