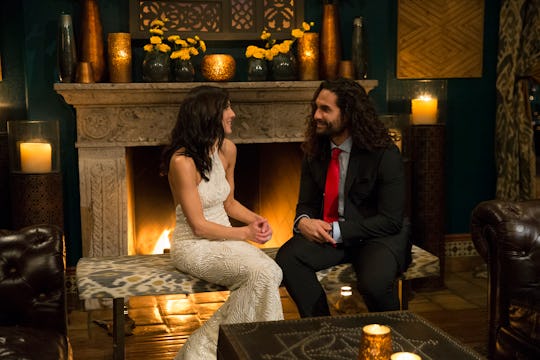 Paul Hebert/ABC
Here's Everything You Need To Know About Leo With The Long Hair On 'The Bachelorette'
Not to make too many judgements about the fresh crop of Bachelorette contestants before everything gets going, but they've certainly picked a diverse and interesting group of men for Becca Kufrin to choose from this year. There's the cologne collector, the former Harlem Globetrotter, various former pro-athletes, and a Hollywood stuntman. The stuntman is sort of a new thing for Bachelor Nation, as is his long, signature hair. So who is Leo on The Bachelorette and will he be rocking a man bun for the rose ceremonies? One can only hope.
Leo is 31 years old and hails from Los Angeles, where's been working as an actor and stuntman for some time, according to his ABC intro interview. When he's not working as a stunt guy, as his bio notes, he's working with his family's construction business and hasn't cut his hair in 10 long years. He said he prefers the "messy bun" look, which means the "Meghan Markle Effect" is alive and well. His LinkedIn Page lists a whole handful of other job experiences, though, including selling Canon copiers and working at a medical marketing company. Hopefully by the time he sits down with Becca he'll have decided on a career, since the Minnesota-born publicist is pretty serious about work.
Chris Harrison introduced him to the world on Facebook by saying that America "would grow to love" Leo, which has me thinking he might be a little rough around the edges at first. Harrison also said that Leo is "well-read, interesting, and articulate." So maybe he'll have more to say to Becca than Arie's standard, "I love that."
After stalking his social media profiles, it's very clear that Leo has a lot of personality, to put it nicely. He posts a lot of pictures of himself on various sets, usually holding up his shirt to bless his followers with a glimpse of his abs. (Which are, by the way, rather impressive.) There are goofy videos of him making prank calls and hanging out with his friends. Interestingly, Leo also has *very* pronounced feelings about food and drink. Like the picture of him holding an orange with the caption, "Ever try a California orange straight from the tree? Something magical, it's almost like they fell from heaven." That's some deep stuff right?
Or this other post of him holding a bottle of spiked cider. "Before you talk crap about ciders listen up: this @101cider has ZERO sugar, is probiotic, 86 calories a serving, and has 7% alcohol. Your beer can't do that." And it wasn't even an ad. Oh, he reflects on world literature on the 'Gram, too. Like I said, this one has a lot of personality.
However, it all this posing with products with his hair blowing in the wind has my cynical self putting him on a certain tier of my Bachelorette bracket at the moment. He seems like the kind of contestant who might make it through a few dates just because Chris Harrison wants to make a few manbun jokes and then gets eliminated. But not before some GIF-worthy, viral moment that will help him slide into an Instagram influencer gig.
I mean, if this guy can get that serious about oranges and alcoholic cider, detox teas and beard grooming products shouldn't be that hard either. Of course, all of the guys are definitely there "for the right reasons," but it does seem like he's brushing up on his caption game for when he gets famous for being one of Becca's suitors. Don't @ me.
In any case, he seems like an interesting addition to Bachelor Nation, whatever he ends up doing. And who knows, maybe that'll be with Becca.