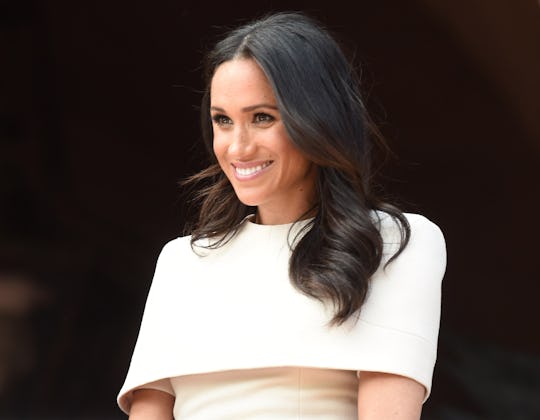 WPA Pool/Getty Images Entertainment/Getty Images
So Apparently Meghan Markle May Have Two Stylists To Thank For Her Flawless Looks
Much like her effortlessly chic sister-in-law, Kate Middleton, Meghan Markle has yet to hit a wrong fashion note since stepping into the royal spotlight. In fact, she was already well on her way to being a style icon even before she paired up with Prince Harry, as the always stunning star of Suits. So what's her secret? Was she born with a gift for always picking the perfect outfit? Possibly, but like many famous types, she also gets a little guidance from those in the know. So who exactly is Meghan Markle's stylist?
Interestingly, it's a question that currently has a somewhat ambiguous answer. Devoted fans of the Duchess of Sussex probably already know that Markle's BFF Jessica Mulroney has served as her "unofficial style advisor" since well before she got engaged to Harry, as Cosmopolitan.com reported. The Canadian stylist (whose husband Ben Mulroney is the oldest son of former Canadian Prime Minister Brian Mulroney) helped to shape Markle's trademark aesthetic and curate her wardrobe for everything from red carpet appearances to a (heavily Instagrammed) girls' trip to the Amalfi coast to episodes of Suits.
In a funny instance of foreshadowing, Mulroney even helped to choose the wedding dress when Markle's character Rachel Zane got married on the show... so it wasn't a huge surprise to anyone when Mulroney was later credited as Markle's "unofficial wedding planner." Mulroney's twin sons Brian and John, 7, and daughter Ivy, 4, were members of the the incredibly adorable bridal party. That's Mulroney in blue below, helping Kate Middleton to lead the kids up the stairs:
And while Markle might technically be Mulroney's highest profile protégé yet, her roster of clients as a fashion and lifestyle consultant already included such big names as Sophie Grégoire Trudeau (wife of Canadian Prime Minister Justin Trudeau) and Canadian journalist Tracy Moore.
"Jess has come up with style concepts for me ranging from the Grammys red carpet [looks] to casual shoots at home with my family," Moore told Cosmopolitan.com. "She's the one you want in your corner for any and all fashion opportunities."
Indeed. When a style guru like Mulroney has your back, why would you need anyone else's opinion? Certainly you wouldn't be asking your husband for fashion advice... except, wait a minute: What if your husband was Prince Harry? Rumor has it Markle's groom could be stepping up as the #1 style influencer in her life, as multiple outlets including have reported.
"Harry has coordinated meetings with high-end designers, who come to them at Kensington Palace, and has attended fittings," according to Elle, and as a source told The Daily Mail, Markle is all for it.
"Meghan is always asking Harry's opinion," said the source. "She really wants his views. He gives his views on what he thinks looks best, rather than helping her follow royal protocol on hemlines or anything like that. The joke is that Harry is Meghan's surprise stylist."
Well, well, well! Who knew Harry had such a flawless fashion sense? (No wonder he has a history as a bit of a ladies' man.) Still, should Markle be concerned about her husband's apparent disregard for the family dress code? As The Sun reported over the weekend, the Carolina Herrera dress Markle wore for Trooping the Colour technically broke the rules because it was off-the-shoulder, which is traditionally considered too revealing for royals. But, whatever, she looked amazing:
And it's unlikely that Harry would actually advise his wife to wear anything that would upset his grandmother, Queen Elizabeth. I mean, she is his grandma. And a queen.
Of course, prince or not, Harry isn't a fashion insider by trade. And Mulroney is Markle's bestie, who just happens to be brilliant at her profession, too. So perhaps, at this point, the role of Meghan Markle's personal stylist is a shared position? We should all be so lucky!