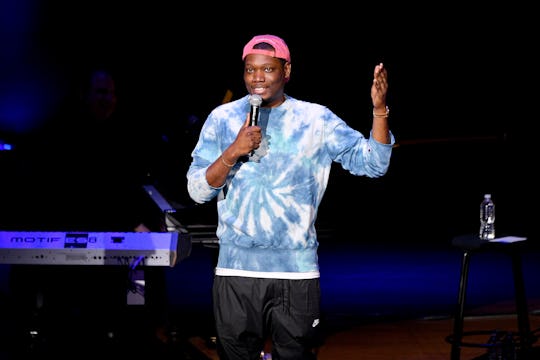 Dia Dipasupil/Getty Images Entertainment/Getty Images
Here's What You Need To Know About Emmys Co-Host Michael Che
In just a week, Saturday Night Live stars Michael Che and Colin Jost will take the stage, for the first-time ever, as co-hosts of the 70th annual Primetime Emmy Awards. Most people may know Jost from SNL's "Weekend Update" (or as Scarlett Johansson's other half), but might not know much about Che, his Update co-host. So who is Michael Che? The 2018 Emmy Awards co-host is a successful comedian in his own right.
Before Che would make history on Saturday Night Live, he was cutting his teeth in New York's stand-up scene. The 35-year-old comic, who started his career in 2009, worked the clubs and the festival circuit for years, becoming a popular fixture on the comedy stage in his hometown. And his hard work paid off: Not only did Che appear both on The Late Show With David Letterman and Comedy Central's John Oliver's New York Stand-Up Show in 2012, he also won the coveted New York's Funniest Stand-Up contest at that year's New York Comedy Festival, according to The New York Times. A year later, after Che joined Saturday Night Live as a writer, Variety named the New York native one of its 10 comedians to watch.
But Che wouldn't become a household name until 2014, when he became SNL's "Weekend Update" co-host after a season writing for the variety show, according to InStyle. And it was a momentous moment for both Che and SNL: His promotion to SNL's beloved news desk made the award-winning comic the first Black co-host in the history of "Weekend Update," InStyle reported. Three years later, Che would receive another promotion — this time to Saturday Night Live's co-head writer alongside Jost, his Emmy Awards co-host.
For all of his success, Che has also experienced his fair share of criticism throughout his career. In 2014, for example, the "Weekend Update" co-host received backlash for comments that made light of street harassment, according to HuffPost. And earlier this year, Che not only faced criticism for making transphobic and misogynistic jokes, but also for belittling his detractors, particularly those who don't identify as male, according to Jezebel.
But most recently, the New York-born comedian came under fire for his comments defending Louis C.K.'s return to stand-up, according to The Daily Beast, and admonishing think pieces criticizing the disgraced comic, who had admitted to several allegations of sexual misconduct earlier this year. Che took to social media a few weeks ago to share his thoughts on C.K.'s unannounced set at the Comedy Cellar, writing in an Instagram Story, "A lot of what I read says that CK shouldn't get to be a 'famous' comedian anymore. Because to them, he's still winning. Isn't that strange?," The Daily Beast reported.
Many #MeToo activists felt that Che's comments disregarded C.K.'s victims, and ignored the lasting damage of the comedian's actions. In response to his Instagram Story, one critic asked Che what he thought C.K. "deserves" in terms of punishment, to which the Saturday Night Live co-head writer responded that, although he didn't know any of C.K.'s victims, nor had he spoken to the comic "in a while," he still believed that "any free person has a right to speak and make a living," according to The Daily Beast. (Romper reached out to Che for comment, but did not hear back in time for publication.)
Whether or not you agree with Che's stance, or are a fan of his overall work, one thing is for certain: This year's Emmy Awards will be an interesting exercise in comedy during the #MeToo era. The question is, will Che and Jost miss the mark completely?