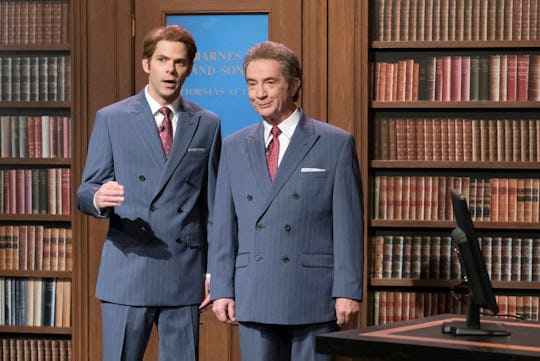 Virginia Sherwood/NBC
Who Is Mikey Day On 'Saturday Night Live'? This Isn't His First Sketch Comedy Show
When it comes to Saturday Night Live, change can be hard. You get used to a certain set of actors for a few years and suddenly, they blow up and move on to bigger things like they have careers to conquer or something. But sometimes, change can be good, because with SNL, it let's us get to know more comedians we may not have otherwise. And this season is no different, so who is Mikey Day on Saturday Night Live? The California-born actor and writer isn't new to SNL, as he's been writing behind the scenes for a few years now, but for the upcoming season, Day will be a featured player for the first time.
Day started writing for SNL in 2013, sometimes appearing in skits, but for the most part has remained behind the scenes, working on some of the recently notable sketches like Ryan Gosling's alien abduction skit and the Hobbit Office sketch, because that's where he was needed. But now is his chance to shine through his acting, as he's worked in multiple TV shows and sketch comedy troupes in the last 17 years. So no, this isn't Day's first time on a largely successful TV show, but it will be his first time as a featured player in SNL's cast, and that's pretty huge.
But who is Mikey Day on SNL? judging by his past work, he's someone who isn't afraid to make fun of himself or totally put himself out there via improv, and he's been steadily doing so up until this point in his career.
He Worked On Nick Cannon Presents: Short Circuitz
At this point, what can't Nick Cannon do? Because in addition to Wild 'n Out, Short Circuitz is another of his shows that revolve around improvisation. Granted, Wild 'n Out is more about improvising your rap and trash talking skills, but still. Not only was Day a cast member for a little while, but he also wrote for the show back in 2007.
He Wrote for Incredible Crew
Another Cannon TV show, Incredible Crew was a short-lived sketch comedy geared toward and starring kids but at the time of its airing, from 2012 to 2013, it was legitimately funny. It gave off All That vibes, but was unfortunately a few years too late. During its lifetime on Cartoon Network, Day wrote for the kids' sketch comedy show, which also featured The Get Down's Shameik Moore.
He Was A Regular Cast Member On Mad TV For Three Years
Before his days as an SNL writer, Day was an actor on Mad TV, which sort of served as FOX's response to the wild success of SNL over the years. The show never really reached such heights as the original comedy sketch show, but it gained a sort of cult following and even today you can find someone quoting the most notable characters in the most cringe-worthy way possible.
He's Also Worked On Maya & Marty
The new Maya Rudolph and Marty Short comedy, Maya & Marty, recently premiered on NBC and plenty of SNL actors have appeared on the comedy variety show, including Day. In fact, he's both appeared in and written for the show, but not it looks like now, all of his attention is going to be focused on his new larger role on SNL.
When Season 42 of SNL premieres on Oct. 1, Margot Robbie will be hosting, along with The Weeknd performing, but the show will also be introducing Day as a regular featured cast member, which at this point, seems like a long time coming.