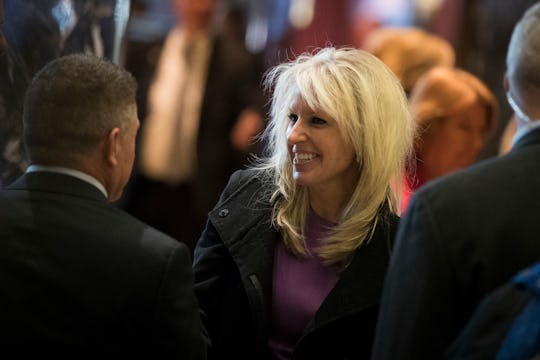 Drew Angerer/Getty Images News/Getty Images
Who Is Monica Crowley? Trump Tapped Her For An Important Position
It's no secret that Donald Trump's relationship with FOX News has been both turbulent and reciprocal, and he's now tapped a second vet from the conservative network to serve in his administration. The controversial commentator and conservative radio personality, Monica Crowley, will join the president-elect's team as the director of communications of the National Security Council, the transition team announced Thursday. Crowley is no newbie when it comes to working with Republican presidents, either: In the early 1990s, she worked as the foreign policy assistant and communications director for onetime President Richard Nixon.
According to Talking Points Memo, Crowley — who started out on Fox News as a political and international affairs analyst back in 1998 — is a divisive figure in the media, one who is perhaps just as prominent for her work as for one specific tweet she sent last year in support of one of the then-primary candidate's most explosive policy proposals. In October 2015, the Fox contributor posted a photo of herself in front of a section of the Berlin Wall, along with the caption "Walls work," an overt endorsement of Trump's stated plan to build a wall between the United States and Mexico to block immigrants from crossing the border illegally. It was a confounding statement, as, until its fall in 1989, Germany's Berlin Wall served as a "symbol of inhumanity and political failure when the country that had built it collapsed into economic and civic chaos," as Slate's Ben Mathis-Lilly wrote.
Crowley, though, embraces controversy, which is to be expected from a right-wing pundit. Although she describes herself as a "happy warrior," according to The Daily Beast, the 48-year-old Washington Times columnist has criticized both former Democratic presidential candidate Hillary Clinton and the Obama administration for not using the term "radical Islamic terrorism" (Trump, too, has tried to make this into a political issue) as well accused Clinton's top aide, Huma Abedin, and her family of working to allow Muslims to take over the West.
Clearly, Crowley has displayed a strong xenophobic streak to rival that of her soon-to-be boss, but she could nevertheless turn out to be an incredibly influential player, as many believe that Ben Rhodes, who currently occupies the position under President Obama, has been instrumental in shaping the Commander in Chief's outlook on foreign policy issues, according to a hotly debated New York Times profile of his published in May. (Others believe that may not be the case.)
Trump has made a habit of siphoning talent from Fox to work for him. Previously, he appointed another Fox alum, K.T. McFarland, to the position of deputy national security advisor. Before that, Roger Ailes, the network's former CEO who was ousted amid allegations of sexual harassment there, became an adviser to the campaign. (The two reportedly don't talk anymore, however.) And on Wednesday, Politico reported that the transition team was considering hiring Kimberly Guilfoyle, a host of Fox's The Five, as press secretary.
Trump's predilection for Fox's people is both surprising and... not. While he actively campaigns to sow public distrust in the media and to convince Americans that journalist are public enemy no. 1, he's also basked in coverage so favorable from Fox News host Sean Hannity that Think Progress's Judd Legum characterized it as "a serialized informercial spanning more than a year." And even though the network provided him with much more airtime than any of the many other Republican (and Democratic) primary candidates, he refused to attend a debate the network was hosting in January because of his high-profile animosity toward Fox host Megyn Kelly. (Fox has put up, of course, because Trump is stellar for ratings.)
Because Crowley has spent much of her time in the limelight defending Trump, launching reprisals at those he views as adversaries, and proving that the two are simpatico on many issues related to how the United States interacts with the rest of the world (walls = good), it's no wonder he's deemed her one of Fox's good ones.