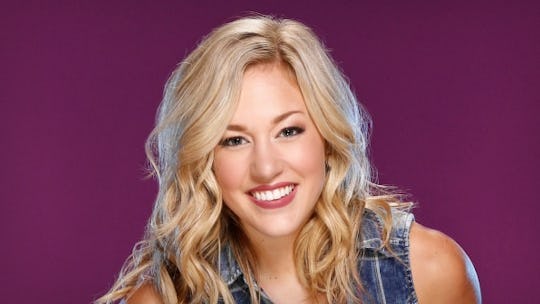 Who Is Morgan Willett On 'Big Brother: Over The Top'? She Isn't Going Into The House Alone
If it seems like just yesterday that Big Brother 18 ended, that's because it kind of did. Well, it's been about a week, but the excitement and disappointments are still plenty fresh. Thankfully, in order to soften the blow of another season coming to an end, we've got Big Brother: Over the Top premiering Wednesday night on CBS All Access, with a whole new batch of houseguests. So, who is Morgan Willett on Big Brother: Over the Top? True, she's just one of 12 new houseguests competing on Big Brother during this new, shorter season, but unlike the other houseguests, she isn't going into the house alone. Instead, Morgan will be accompanied by her older sister, Alex, which could be either make both of their games in the house stronger or totally disastrous.
This won't be like Season 5 of Big Brother, though, which saw twins Adria and Natalie continuously trading places in the Big Brother house to throw off their fellow housemates until they ended up being able to play the game alongside each other. Both women will compete, along with the rest of the house. That means that yes, they'll be competing against each other, but that doesn't mean that they can't align with one another until someone else in the house breaks their sisterly bond.
Morgan's Instagram and Twitter accounts are both private at this time, but hopefully that will change once her family members back home realize that she'll be gaining fans as a Big Brother: Over the Top contestant and said fans will need somewhere to sing their praises other than Reddit and the CBS All Access live feed chats. But in Morgan's pre-show on-screen interview, the 22-year-old publicist from Texas let out a few clues about who she is and what kind of game she'll be playing.
She Used To Be A Cheerleader
That's right, we may have another Natalie on our hands. At least, when it comes to the energy, enthusiasm, and penchant for shouting out random cheers and cheer moves, that is. Morgan has been cheering her "whole life" and went on to do so in both high school and college at the University of Texas where she studied journalism. Using that sort of energy is going to be part of her game to get people on her side.
She Doesn't Want A Showmance, But She'll Use Her Charm To Her Advantage
Again, didn't Natalie mention that she wouldn't be afraid to use her charm in the Big Brother house if it allowed her to go far in the game? Then again, can you really fault anyone for planning to use their abilities to their advantage? That's kind of part of the game, and if it works for them, then more power to them.
One Of Her Favorite Players Was Nicole
Take this how you will. Either her admiration for Nicole will be her downfall, because she'll become a less impressive snake in the grass, or she'll use the fact that a strong woman recently won the game to propel her forward and inspire her to win Big Brother: Over the Top.
Her Competition Confidence Is On Point
Morgan said that if she could bring anything into the house, one of those things would be "running shoes because I plan on winning all the challenges," so if those aren't fighting words, then I don't know what they are. But going into the Big Brother house ready to win competitions and not worrying too much about showmances or friendships is the way to start it off right.
Her Familial Connection Is Going To Be A Secret In The House
Morgan and Alex both told Entertainment Weekly that they plan to keep their relationship a secret until they absolutely have to. If someone else in the house asks or guesses that the two are sisters, then they'll be honest, but neither are going to volunteer the information right away. Of course Tiffany also said this last season on Big Brother 18 and one episode in, and she was already crying and admitting to Da'Vonne who her sister was.
Let's just hope that this time around, we get a lot less tears and a lot more game play and fearlessness from our female players. Big Brother: Over the Top premieres Wednesday, September 28, at 9 p.m. EST on CBS All Access.