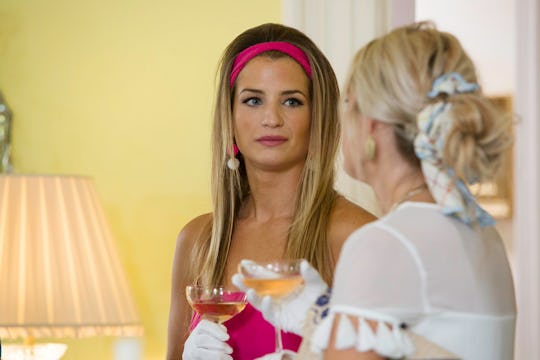 Brianna Stello/Bravo
Naomie From 'Southern Charm' Has Moved On From Craig Conover
For Southern Charm fans who have any hope of Naomie Olindo and Craig Conover eventually getting back together, it looks like they've both finally moved on. In fact, she's even publically seeing someone. So, who is Naomie Olindo dating? The Southern Charm star has gone public with her new relationship and she seems genuinely happy to have moved on from her increasingly tumultuous relationship with Craig. In May, Naomie posted a photo of herself with her new boyfriend, Metul Shah, on her Instagram and since then, the two have been actively posting photos showcasing their new romance.
However, as Naomie told People, this time she doesn't plan to show her relationship on the show. "I think I learned that lesson the hard way," she said. She also seems to be guarding Shah from the spotlight for the sake of their relationship — at least for now. "I don't want to give any details about him, because I want to respect his privacy." While that's fair enough, she did tag him in their Instagram photos. From a quick search, he seems to be an anesthesiologist in Charleston, South Carolina, so it would make sense that she might want to do what she can do keep his private life separate from the rest of the world.
Judging by Shah's Instagram, he's a more or less new resident in Charleston, as a photo from July 2017 showed him saying goodbye to his home in Richmond, Virginia with a caption that included "See y'all in Charleston." In fact, he graduated from Virginia Commonwealth University in May of 2017, so he's a new doctor too. But his relationship with Naomie, though still very fresh, seems pretty legit so far. They even attended a wedding together recently. So, I'd say that Naomie has officially moved on and has found happiness with her new beau outside of Southern Charm.
Shah also seems to have a pretty good sense of humor, especially when it comes to photos of the two of them together. Under one, he wrote, "One of us is starting her own clothing label (@shoplabeye) and the other put a tide pod in the dishwasher yesterday, so you can say we're both doing pretty amazing," in reference to Naomie's new clothing line. And under another Instagram picture of them candidly adjusting their clothes, he wrote, "Maybe one day I'll get to portray us as a functional couple capable of taking a presentable photo… today is not that day."
I'm definitely a fan of Craig's and hope the best for him too, but I also can't help but be happy for Naomie for finding a relationship with someone else. I don't know if the fact that her relationship with Craig was televised for all to see played into some of their issues — but it probably didn't help either.
Despite only coming out publicly about her new relationship in May, she may have started seeing Shah even before that. "I knew him before," Craig told People in May. "It's what she wanted. She wanted someone with, like, a very structured job, with a real job." However, the Southern Charm star added, "Her making it official was weird, but they had been together for a while." Regardless of the exact timeline of Naomie's new relationship and her non-relationship with Craig now, the exes seem relatively amicable and that's really all you can hope for. Especially since we're bound to see plenty of this come up at some point next season.