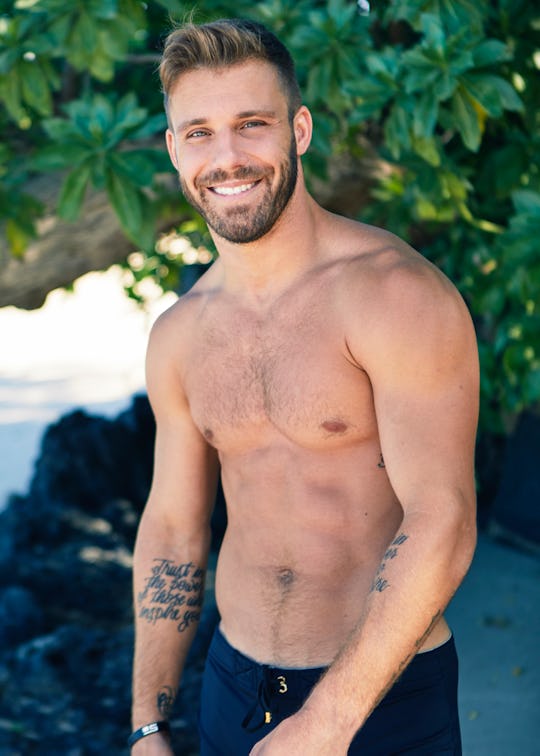 MTV
'Big Brother' Alum Paulie Calafiore Is Dating A 'Bachelor' Fan Favorite
The newest MTV reality dating show, Ex on the Beach, is basically made for those of us who live for reality TV and the romances that seem to inevitably come along with it. In true MTV form, the show features a couple of different twists, including the majority of the cast itself, which is comprised of former reality stars, including Big Brother 18's Paulie Calafiore. So if he did find love, who is Paulie Calafiore dating now? The Big Brother alum is actually in a relationship with a Bachelor fan favorite who wasn't even on Ex on the Beach. Go figure, right?
Since at least January 2018, Paulie has been dating Danielle Maltby, who competed for love and roses on Nick Viall's season of The Bachelor in Season 21. But if she's not on Ex on the Beach, how did they even come to know each other? Turns out there were a few former Bach alums who do appear in the new series: Jasmine Goode and Chase McNary. So it would make sense for that to be how Paulie and Danielle started hanging out in the same circles. However, according to a source who spoke with E! News, Paulie and Danielle were actually brought together by their mutual publicist.
After a little digging, I found a photo on Danielle's Instagram with her publicist, Lori Krebs, and the two look pretty chummy. On her own personal website, there are photos of Krebs with other reality TV stars and on Paulie's Twitter account, he lists her as the contact for all media inquiries. So I'd say that it's very possible that Krebs realized that two of her clients would work well together and they kind of just rolled with it once they made a connection.
On Danielle's Instagram, she's also pictured with Big Brother 19's Jessica Graf and Cody Nickson and while they weren't on the same season as Paulie, it does connect the two reality TV universes even further. Danielle and Paulie spoke to E! News while attending an Amazing Race finale party for Jessica and Cody back in February and confirmed their relationship, despite fans having strong feelings about it one way or the other. "I was a little worried about it because I knew people would have very strong opinions about me dating such a sweet, sweetheart," Paulie admitted. "We totally wanted to do it our way. We wanted to enjoy it because we are definitely a little crazy about each other."
Danielle added of Paulie, "He's my favorite person," so by all accounts, they seem to have found something special with each other. The couple also shared that they've mutually found someone with whom they can be themselves and that they've found happiness together. Paulie might have agreed to go on Ex on the Beach to find love or at least a relationship, but he ended up finding it out in the real world instead.
While their relationship seems like the real deal, it might be hard for some fans to take Paulie seriously, especially if the majority of their knowledge of the former Big Brother star stems from his time on Big Brother. As a houseguest, he didn't gain much favor with fans and, eventually, with his fellow houseguests. He did have a romance in the Big Brother house, or, ahem, a showmance, but on more than one occasion he seemed ready to ditch that relationship for the sake of the monetary prize.
He was also rumored to have been engaged shortly before going into the Big Brother house and because of that, fans might have been weary at first about his intentions with Danielle. But they do seem like they've formed a real connection. Don't get me wrong — I'm still 100% here for watching Paulie on Ex on the Beach when the show premieres on Thursday, April 19, but it's oddly comforting to know that he's found something real with Bachelor Nation sweetheart Danielle.
Check out Romper's new video series, Romper's Doula Diaries:
Watch full episodes of Romper's Doula Diaries on Facebook Watch.