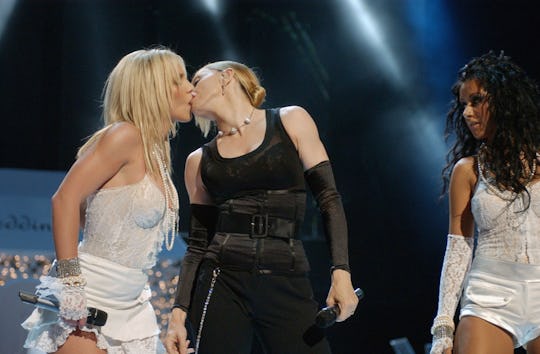 Frank Micelotta/Getty Images Entertainment/Getty Images
Don't Miss Out On The Performances At The 2017 VMAs
It's MTV Video Music Award season again, which means that summer is officially over, which is very sad. The good news is that it's time for music fans and pop culture fanatics to all gather around the TV and see who shows up, what everyone's wearing, and gauge how old they are by seeing how many stars they actually recognize. Although the evening is supposed to be all about who wins the coveted Moon Person, everyone really knows that it's all about who's performing at the 2017 VMAs, just as it is every year.
As I'm sure many of you know by now, Katy Perry is hosting this year and she's also on the list of performers, so plan on seeing a whole lot of her this year. In addition to Perry, here is who else will be performing at The Forum in Inglewood, California on Sunday night: Pink, Kendrick Lamar, Fifth Harmony, Demi Lovato, Shawn Mendes, Miley Cyrus, Thirty Seconds to Mars, Lorde, Ed Sheeran, Logic, Khalid, Gucci Mane, Post Malone, Julia Michaels, Bleachers, Cardi B, DNCE, Rod Stewart, Alessia Cara, and Kyle will all be there.
Of course, this is the VMAs, which prides itself on being as extra as possible, so anyone who's in the theater on Sunday night could theoretically end up on stage — or flying through the rafters —to wow viewers and fans.
Of course, the question on everyone's mind is whether or not Taylor Swift will perform at the VMAs this year. MTV says she's not going to perform, but that's sort of hard to believe. This week, she teased her new album with creepy snake videos before eventually releasing the first single, "Look What You Made Me Do" from the album.
What's the point of hyping an album release (and one that fans have been waiting for) two days before the VMAs if you're not going to do a surprise performance? MTV has confirmed that they will premiere the video for the single of Reputation during the show, which means that it's possible she could come out on stage and finish up live or something if she's there.
Then again, this album is supposed to be about a whole new Taylor, so she might want to avoid the spotlight. Katy Perry is hosting, and Swift is rumored to have a "feud" with her, so avoiding any perceived snubs might be a good idea. In addition to that, T-Swift became a household name back in 2009 when Kanye West bumrushed her on stage and interrupted her acceptance speech.
So, yes, it's very likely that Swift will watch from home this year and just show off her new, recorded video. But when it comes to the VMAs, one never knows what will happen. And the timing is definitely right for Taylor to make a splash this year.