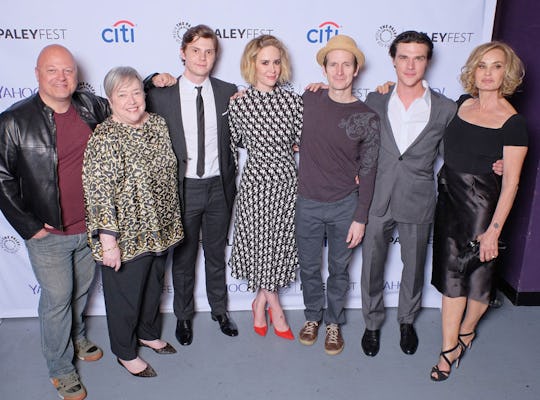 Michael Bulbenko for Paley Center for Media
Who Is Returning For 'American Horror Story' Season 7? There Are A Few Possibilities
One of the greatest things about American Horror Story is the reliability of its returning cast. Every year, viewers get to see the actors they've grown to know and love in a variety of different roles. Series creator Ryan Murphy seems to take care to vary the sorts of characters each actor plays from season to season, so none of them feel too repetitive. Right now, viewers are in that sweet spot between one season ending and the next beginning — meaning it's time for some casting speculation. While no one yet knows for sure who is returning for American Horror Story Season 7, that doesn't mean fans can't make some educated guesses.
Season 6 was an anomaly among the more recent seasons of AHS in that viewers learned virtually nothing about the story or characters until the season had actually premiered. The only thing fans did learn before the show premiered was which returning actors they could expect to see make an appearance. Though the amount of foreknowledge we, as viewers, get varies from year to year, typically, casting announcements for the upcoming season begin to trickle out in the few months immediately after the season ends and throughout the summer before the premiere. For example, Lady Gaga's first time joining the cast as Countess Elizabeth in Hotel broke in February 2015, eight months before Season 5 debuted.
PaleyFest is kind of this show's bread and butter (it even made an appearance in Roanoke's finale), so in all likelihood, fans will learn the theme and some major cast announcements there, in Spring 2017. That tracks with Murphy's announcement that everyone would learn Season 7's premise in the spring and that it would involve certain Freak Show characters.
In the time before official announcements are made, it can't hurt to guess who probably is (and probably isn't) returning. Here are the most likely, least likely, and moderately likely returning actors for American Horror Story Season 7, based on the frequency and recentness of their appearances on the horror anthology series.
Virtually Guaranteed
Sarah Paulson, Lily Rabe, and Evan Peters have been in every single season of the show so far. If they're planning to leave, odds are they'll make a big announcement, as Jessica Lange did back in March 2015 after Freak Show concluded. However, until I hear otherwise, I think it's safe to assume that they will remain the show's three virtually certain mainstays. And Peters better be back, given fans' annoyance that he appeared in relatively so little of Roanoke.
I would also guess that Kathy Bates is a given. Though she didn't appear in either of the first two seasons of the show, Bates has enjoyed a major role (and a few fan favorite characters) in each of the past four seasons. Not only that, but her performances are always critically-acclaimed, winning her many award nominations.
Finn Wittrock, like Bates, has enjoyed tons of critical acclaim and love from fans since he joined the show in Season 4 as the delightfully insane Dandy Mott. He's appeared in each of the past three seasons, so it's likely he'd return again — though his role in Roanoke was far smaller than in the two years prior. Similarly, Denis O'Hare is an incredible actor who has always played popular characters and has appeared, in some capacity, in every single season except Asylum.
Probably, But Not Definitely
If it was last week, I'd have put Angela Bassett in the definitely column. But news just broke that she'll be joining the increasingly-amazing cast of Black Panther, so she simply might not have the time. She's been a pretty huge part of the past four seasons, so odds are she'll somehow make it work.
If Scream Queens is cancelled — as its chronically low ratings unfortunately suggest it might be — that would free up Emma Roberts to return for a role. Roberts appeared as Season 3's incredibly gif-able and snarky Madison Montgomery and as Season 4's Maggie. It was rumored that she'd return for Season 6, but that didn't happen — so perhaps she'll be a part of Season 7 instead. She was a part of Freak Show, the season that is continuing to be explored in AHS: 7, after all.
Cheyenne Jackson, Wes Bentley, and Matt Bomer have become familiar faces recently as well, so it's also likely fans will see some combination of those three in at least bit parts next year. Jackson, in particular, completely nailed Roanoke's hilariously amoral Sidney James, so I'd love to see him in a bigger role for AHS' seventh season.
Highly Unlikely
Look, as sad as it is to say, Jessica Lange is simply not interested in returning to AHS anytime soon. At last check, she flatly told Charlie Rose no when asked during an interview whether she'd be up to make an appearance on the show once again. She could change her mind (and I truly hope she does!), but as of now, being realistic, it's unlikely.
Fans have been hoping for a Connie Britton return for over five years now, ever since she played Vivian Harmon in Murder House. When Nashville was cancelled by ABC, it seemed like Britton might have time for an AHS comeback. But it wound up being picked up by CMT, so in all likelihood, fans won't be seeing Britton on AHS again anytime soon. Again, I'd love to be proven wrong about this one!
Much as I'd love to, I also don't have particularly high hopes about seeing Taissa Farmiga again anytime soon. Just a hunch.
Again, this is all pure speculation. Fingers crossed viewers will get some interesting new additions and cast shake-ups when specific details about American Horror Story Season 7 begin emerging in the coming months!