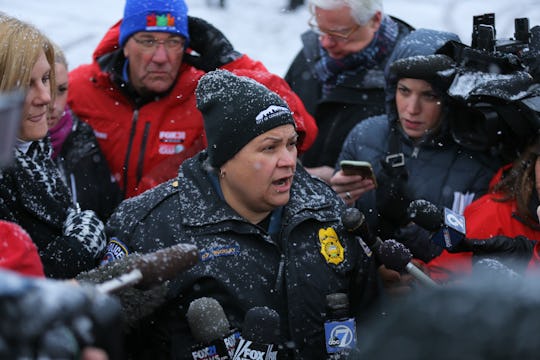 Who Is Robert Lewis Dear? Here's What We Know About The Planned Parenthood Shooter
Robert Lewis Dear, 57, has been named as the suspected shooter in the Planned Parenthood shooting in Colorado Springs, CO on Nov. 27. The incident began on Friday at 11:38 a.m. local time, culminating in an hours-long standoff with police that has left two civilians and one officer dead, and nine others injured. Dear surrendered himself to police at approximately 5:00 p.m. Friday afternoon, at which point the building was cleared by police, who were initially concerned about "items" Dear had brought with him inside the building. No further information has been released on the incident or the alleged shooter at this time, including Dear's motive or any ideology or affiliations that might have informed his alleged actions.
According to KDVR-TV, Dear, a South Carolina native, lived in North Carolina and was staying in Hartsel, Colorado, a little over an hour from Colorado Springs. Dear's arrest record includes several traffic violations, as well as charges of animal cruelty and being a "peeping Tom" (neither of the latter charges resulted in arrest).
In a statement released yesterday, Vicki Cowart, President and CEO of Planned Parenthood Rocky Mountains, said:
Our top priority is the safety of our patients and staff. Our hearts go out to everyone involved in this tragic situation. Planned Parenthood has strong security measures in place, works closely with law enforcement agencies, and has a very strong safety record. We don't yet know the full circumstances and motives behind this criminal action, and we don't yet know if Planned Parenthood was in fact the target of the attack. We share the concerns of many Americans that extremists are creating a poisonous environment that feeds domestic terrorism in this country. We will never back away from providing care in a safe, supportive environment that millions of people rely on and trust.
Cowart's statement can only be described as a fitting, and even downright measured response in the face of yet another violent attack on Planned Parenthood. Of course, according Republican Congressman Adam Kinzinger, who was on CNN during the shooting, Cowart should've been apologizing for the shooting (because he's apparently ignoring the history of violent attacks on Planned Parenthood locations since the 1980s). Speaking on CNN, Kinzinger pouted "If we find out that he was not targeting Planned Parenthood, I would fully expect an apology from the Planned Parenthood director for saying that." Coward seemed to almost write off the violent actions as merely "taking a legitimate disagreement with a practice and [turning] it into an evil response." (This shooter just took things a little too far, guys, but his beef with Planned Parenthood was totally legit.)
President Obama released a statement wearily condemning yet another shooting in America, which marks the 16th such attack Obama's spoken about since taking office:
While we don't know too much about Dear yet, and even less about what motivated his actions, Vicki Cowart's powerful words haunt and encourage those of us who passionately support a woman's right to health and her body. Whether or not Dear was specifically acting against Planned Parenthood, the fact remains that much of the political culture surrounding Planned Parenthood has become toxic and dangerous. Despite all of this, the nearly 100-year-old institution will continue, undeterred, in providing healthcare to millions of Americans. In a tweet early this morning, Planned Parenthood Rock Mountains announced that its 28 other regional centers would remain open no matter what.
What Dear allegedly did on Friday unequivocally amounts to terrorism, and if nothing else, it's heartening to see that the fear understandably inspired by such a horrific act isn't causing Planned Parenthood to shutter its doors for even a day.
Image: Justin Edmounds/Getty Images