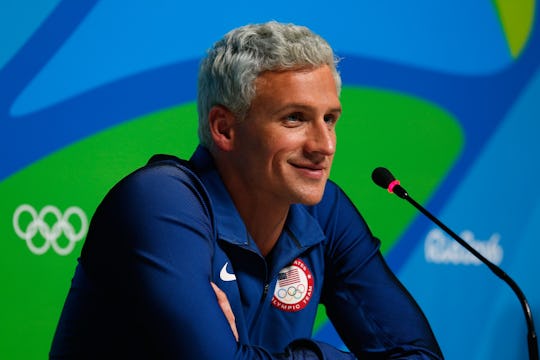 Matt Hazlett/Getty
Who Is Ryan Lochte Dating? The 'Dancing With The Stars' Star Has One Supportive Girlfriend
Sorry everyone, but if you're still swiping on Tinder hoping to run into Ryan Lochte's profile, you'll find you're wasting your time. While Lochte has been open with the media about using the dating app, he's probably not swiping left or right these days, as he seems pretty committed to one lady in particular, and may have even taken her to Rio with him. So, who is Ryan Lochte dating? His girlfriend Kayla Rae Reid is a Playboy Playmate and has hinted that Tinder is exactly where the two of them met.
In an interview with the Daily Mail, Reid said coyly "He was on Tinder. I might be on Tinder." But unfortunately, she didn't expand on the Tinder question any more than that. But considering Lochte's previously stated fondness for the app, where he has said he met women who "have professional jobs and everything," it's not a huge leap. No matter how the two met, it's clear that they are still very cozy. News of their relationship first broke back in March, and if their social media accounts are any indication, the relationship is still going extremely well. They've met each other's parents and Lochte has started trying to make the hashtag #Rayla — a portmanteau of their names — a thing. And in the light of all the scandal that has surrounded Lochte lately, Reid has been nothing but supportive.
As reported by Us Weekly, when asked about the scandal, Reid told reporters "I will always support him no matter what." That is very sweet and I would expect no less from Lochte's girlfriend.
Now Lochte is entering a new phase of his life. The phase that involves rhythm and music and probably special shoes. I'm talking, of course, about Dancing With the Stars, on which Lochte is going to be a contestant. Lochte doesn't have a lot of dance experience, so I'm not sure how far he'll last against someone like Laurie Hernandez, a fellow Olympian and gymnast who will be one of his competitors. But no matter how far he gets in the actual competition, Reid will still be supporting him from the sidelines.