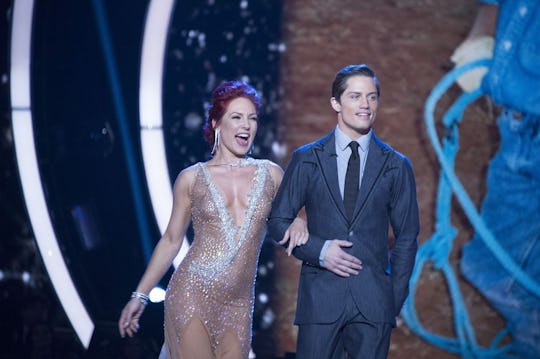 Eric McCandless/ABC
Sharna Burgess' Dating Life May Give 'DWTS' Fans Hope
The romantic lives of the dancers and pros on Dancing With the Stars isn't the most important thing about the series, but when you have a pair like Sharna Burgess and Bonner Bolton who seem to have sparks flying right away, it's hard not to ask questions about it. So who is Sharna Burgess dating? The DWTS pro is apparently single right now, as is her "star" counterpart Bolton, but that doesn't mean they're actually together.
In fact, according to People magazine, both Bolton and Burgess are single right now. Of course, that just gives DWTS fans more reason to want the two of them to get together already and make all of those almost-kisses on the ballroom floor actual kisses for the would-be couple. Though Burgess is apparently the last single female pro on DWTS, according to Entertainment Tonight, that doesn't mean she's in any hurry to change that. "I'm actually having the time of my life being single," Burgess said. "It's so hard to meet great people and to know if they're genuine or not. And it's a genuine concern."
Burgess' last boyfriend was dancer Paul Kirkland and they were together for five years before breaking up in 2015. On Burgess' blog in January 2017, she wrote that "no man is an island" and that people should "be social and not just online!! Enjoy time with friends, Join a club, go on a hike with someone, and work on appreciating others and taking notice and an interest in them as they will in you."
It would seem that, although Burgess and Bolton have an undeniable chemistry together, she's not in any rush to be in a relationship right now. Still, how can fans of the DenimNDiamonds duo not still 'ship them together as they waltz across the ballroom floor on DWTS? On Burgess' Us Weekly blog, she pretty much sums up the romantic future of her and Bolton, making it clear that yes, she's single, but that doesn't mean that she and Bolton are going to be a thing anytime soon:
Yes, we look great standing next to each other — as anyone would, he's a gorgeous man — but we are just friends! Sorry! I know there are showmances and there are real romances on the show, but probably to my detriment, I think I'm too much of a professional to ever cross the line to any of my partnerships being anything more than coach and student. At the end of the day, if you're meant to be together, it can still happen after the season!
So at least she's saying there's a chance, right? Burgess isn't dating anyone, but the DWTS pro obviously knows that in order to continue being a pro dancer, she needs to keep her eye on the Mirrorball trophy prize. At least for right now, anyway.