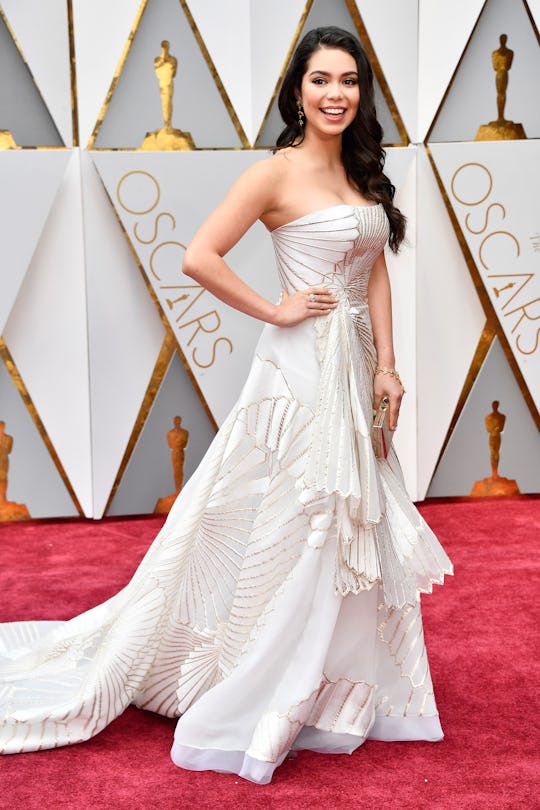 Frazer Harrison/Getty Images Entertainment/Getty Images
The 'Moana' Star Wowed The Oscars With Her Voice
Moana was one of 2016's biggest films and a massive critical darling. Since its highly-anticipated November release, the latest feature in Disney's illustrious animated slate has been making waves (pun so very much intended). Given that one of its amazing songs "How Far I'll Go" was nominated for an Oscar for Best Original Song, viewers were looking forward to seeing the song performed live — and the number certainly didn't disappoint. But who is singing "How Far I'll Go" at the 2017 Oscars?
As with all of the Best Original Song nominee performances every year, the nominated Moana tune was performed by someone directly involved with the film: its star. Following a Hamilton-style original rapped opening by Lin-Manuel Miranda, the award-winning musical genius behind the animated film's music and lyrics, Auli'i Cravalho took the stage to perform "How Far I'll Go."
The talented 16-year-old blew everyone away with her raw, emotional performance. The opening number, Justin Timberlake's "Can't Stop the Feeling!," was certainly great, but Cravalho's performance had the feel of an organic Broadway number — fitting for a song written by Miranda, Broadway's darling. Though the high-schooler isn't as seasoned a performer as some of the others who will be taking the stage to perform their original song nominees, she pulled it off like a champ, hardly flinching when a set malfunction resulted in a blue flag prop hitting her in the head.
What a trooper!
Prior to her performance, the young actress and singer had teased it to Billboard, admitting that she had some pre-performance jitters. "I've been singing the song non-stop," she explained. "Our choreography is coming together beautifully, and everything is falling into place like a dream come true. It's a whirlwind of joy, excitement and oh my god, I'm so nervous!" Clearly, all that practicing paid off (except for that one rogue flag-wielder), because Cravalho nailed it.
The then 14-year-old Hawaiian high-schooler was chosen from among hundreds of other young actresses who came out for the leading role and was actually the very last person who auditioned. Based on her emotional Oscars performance of "How Far I'll Go," it's a surprise to no one that she won the role amidst such staunch competition.
Many were tweeting out their praise of the young up-and-coming singer-actress, including some of Hollywood's biggest names.
There's no doubt that there are many big things down the line for the talented newcomer, if her Academy Awards performance is any indication.