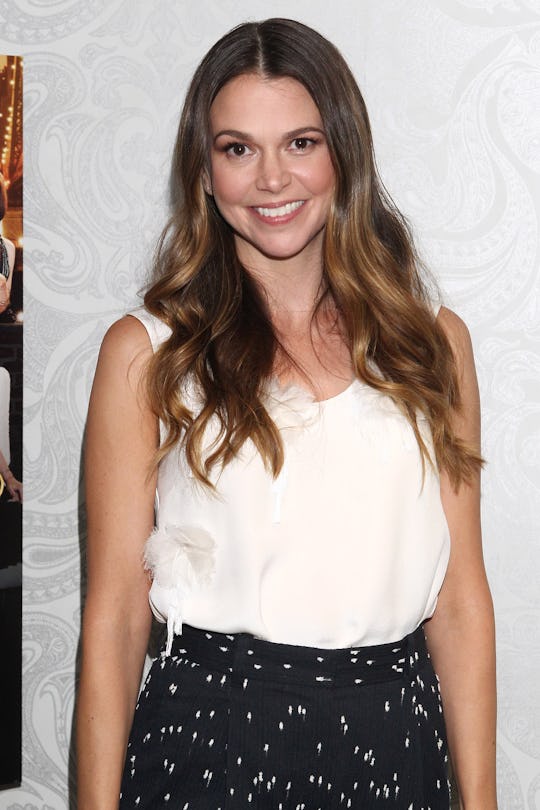 Tommaso Boddi/Getty Images Entertainment/Getty Images
Who Is Sutton Foster Playing In The 'Gilmore Girls' Revival? She's A Huge Fan In Real Life
Once it was confirmed that the original cast would be returning for Gilmore Girls: A Year in the Life, it was time to scrutinize the trailer and figure out who the extra people were throughout the clip and what they mean for the Gilmore Girls revival premiering on Netflix on Nov. 25. Then, IMDB posted the cast list for the four-part mini-series, and it was time to figure out who was who. Like, who is Sutton Foster playing in the Gilmore Girls revival?
If you're as big of a Gilmore Girls fan as most (which you really should be), then you probably recognize Foster from Amy Sherman-Palladino's other series, Bunheads, which came after Gilmore Girls and wrapped up on ABC Family (now Freeform) back in 2013. And in the trailer for the Gilmore Girls revival, you can see a quick shot of some ballet dancers at Miss Patty's, so that could either just be a shot of your Stars Hollow characters doing their typical daily activities, or perhaps this could be hinting at an amazing crossover moment fans can expect with Foster's character from Bunheads, which would be kind of great.
But honestly, Foster's character in the Gilmore Girls revival could be any number of new faces, since the series continuation of the show will follow Rory and Lorelai for an entire year. The only real hint is that, thanks to an interview with Vulture, Sutton revealed that her character will be a struggling actress who will, at one point, star in the upcoming Stars Hollow musical. In fact, you can even see Sutton dressed up in a pilgrim outfit around the two-minute mark in the trailer, which could very well be a tease as to her part in the ensemble.
As I'm sure many of you know, the actress herself has been a huge Gilmore Girls fan right from the start. According to an interview with Philadelphia magazine, Foster said getting to appear in the revival is a fan girl's dream come true. "I'm going to pretty much lose my sh*t being on this show," she told the magazine. "It's a thing, and when I get to hang out with Lorelai, I'm going to freak out. There will be tears, and I will cry."
Until the Gilmore Girls revival premieres on Netflix, though, it's always a good idea to speculate as to what Foster's character will be like outside of just her time in the musical. Could she play a more integral role in the Gilmores' lives? Here's how I think Foster's role could potentially be expanded throughout the revival...
She's Actually Michelle From Bunheads
Foster starred as Michelle in Bunheads for the entire season it was on TV, and while the reception wasn't as great as it could have been, loyal Gilmore Girls fans were all about the ballet-themed drama/comedy, which offered the same kind of humor everyone had come to expect from any project related to Amy Sherman-Palladino. So it's entirely possible that the Gilmore Girls revival is going to give Michelle a platform to return as well, serving as a subtle wink for loyal fans.
She's Dean's New Wife
If you remember (how could you forget?), Rory slept with Dean when he was still married to his wife, Lindsay (Arielle Kebbel), and while Dean and Lindsay ended up parting ways, things didn't exactly work out with Rory either. Could this mean that Dean got a new wife in the years since fans last saw him? It's completely possible and Sutton would be a great fit for the part.
She's A Teacher At Chilton
In the trailer, you can see Rory back in the courtyard of her Alma mater, with uniformed girls all around her. The weather even looks a bit summer-ish, which is when Foster is slated to appear. Maybe she's one of the new teachers who was also a former student herself. It's possible Rory even knew her back then and viewers just didn't realize it. Regardless, this would be a great BFF opportunity.
She's Jess' Girlfriend
This is almost too painful to say because, as a huge Jess and Rory 'shipper, I can't even fathom him being with anyone else. But on IMDB, Milo Ventimiglia is only listed for three of the four episodes of the Gilmore Girls revival. Now, that could mean any number of things, since he's also in the NBC show This Is Us, but if he's not meant to be with Rory, you can see how Foster, another pretty brunette with striking eyes, would fit right in.
She's An Instructor At Miss Patty's
Bringing you back around to the whole ballet aspect, seeing a dance class practicing in the open door of Miss Patty's studio could make fans insinuate that Foster is a dance instructor herself, though without any connection to her character from Bunheads. It would be like an inside joke with fans who are familiar with Sherman-Palladino's other TV show as well as a legitimate throwback.
But when it comes down to it, Foster's character is still a bit of a mystery, but there are clearly a number of ways for her to fit in. But all will be revealed when the four-part, 90-minute episodes are available for streaming on Netflix on Nov. 25.