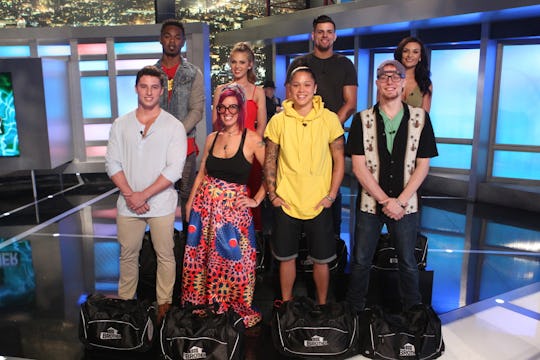 Sonja Flemming/CBS
The First Head Of Household On 'Big Brother 20' Could Be Anyone
Everyone can say that they hope to avoid the first Head of Household win all they want, in order to appear less competitive or as strong than they are, but we all know that everyone is gunning for it regardless. This season, the first Head of Household on Big Brother 20 hasn't yet been revealed, but there are some legit contenders for the honor of kicking out the first houseguest and possibly getting an immediate target on their back.
Right now, it's anyone's game, since we haven't really seen who is better at what kind of competition, whether it's more physical or mental. But there's also a chance that those who are already safe will not compete in the HOH competition since it guarantees safety that they already have. If that is the case, then those who won't be the first HOH are Angie "Rockstar" Lantry, Rachel Swindler, Brett Robinson, Chris "Swaggy C" Williams, Scottie Salton, Faysal Shafaat, Kaycee Clark, and Haleigh Broucher.
Of course there's the chance that the Big Brother powers that be will allow all of the contestants to participate in the competition, in which case it's likely anyone's game. That is, as long as Sam Bledsoe doesn't have to compete as RoboSam.
If we're really looking at all of the houseguests though, then there are a handful of strong competitors who could win that first HOH and get the second power grab of Big Brother this season. Although Faysal is already safe thanks to Swaggy C using his power of protection to keep that group safe from eviction for the first week, he could still gun for the power that comes with being the HOH to further his place as a strong competitor. Although that can sometimes make you a target, he might also be able to make some deals right off the bat, which could serve him somewhere down the line.
Then, there's Swaggy C. Yes, he already won the first big competition of the season, but he also said in the episode that part of his strategy is to play hard at first and only afterward will he dial it back a bit. Winning the first HOH this season could play into that plan of his, especially since he was satisfied with getting the first big win beforehand.
Angela Rummans, who played against Swaggy C and believed herself to be safe, could also come out swinging. After he went back on his word to keep her safe following his win of the competition, she then became part of the two groups who could be put up on the block if none of them win the first HOH of the season. She also might be out for blood after that, so it's definitely possible that she could win the HOH just to assert her own power.
Speaking of those who are not safe, we could also see a surprise win from two of the other competitors in her group, Tyler Crispen and Winston Hines. While neither have really proven themselves to be competition beasts just yet, the season is still young and now that they're part of the eight who don't have assured safety for the first elimination, either one of them could come out swinging. Then again there's also Bayleigh Dayton, who was so sure that she and Swaggy C had hit it off as allies and who'd also been assured safety ahead of his decision.
Overall, I would say that the viable houseguests to get that first HOH are Angela, Swaggy C, and Bayleigh. While Swaggy C already has that safety in the bag, he's also all about winning comps and taking power from others, at least for now. And for both Angela and Bayleigh, they've already been betrayed by another houseguest and it's one week one. Neither would be able to get Swaggy C out this time around, but it would still enable either of them to assert their dominance, especially after he chose the other groups for safety.