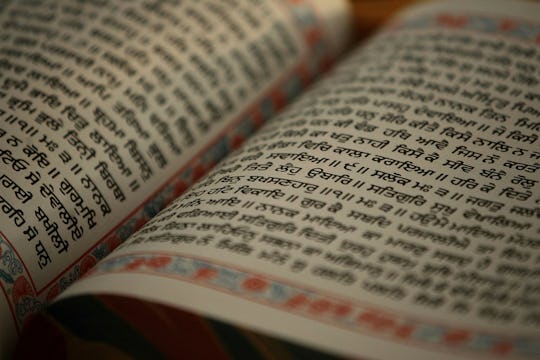 Chip Somodevilla/Getty Images News/Getty Images
Shooting Of Sikh Man May Have Been A Hate Crime
One man in a Seattle suburb is recovering from a weekend shooting attack that took place in his own driveway, and which leaders is his Sikh community view as an anti-Sikh crime spurred by an erosion of the stigma associated with racist behavior. Deep Rai, the Sikh man who was shot in Washington, was working on his car Friday evening when an as-yet unidentified man allegedly confronted him, demanded that he "go back to your country," pushed him to the ground, and ultimately shot him in the arm. Police, who are investigating the incident as a hate crime, believe that the attacker did not know Rai.
That the two men do not appear to have been connected is underscored by the fact that Rai, a U.S. citizen originally from India, was easily identifiable as a Sikh at the time of the shooting because he was wearing turban, local TV station KIRO 7 reported. The 39-year-old was released from the hospital the day after the attack and is expected to make a full recovery, but that does little to assuage the uneasiness that his shooting inspired in those who share his faith.
"While we appreciate the efforts of state and local officials to respond to attacks like this, we need our national leaders to make hate crime prevention a top priority," Sikh Coalition Interim Program Manager, Rajdeep Singh said in a subsequent statement from the organization. "Tone matters in our political discourse, because this a matter of life or death for millions of Americans who are worried about losing loved ones to hate."
The statement also drew a parallel between the attack, reportedly perpetrated by a white man with his face partially obscured behind a mask, and one which left one Indian man dead and another injured following an incident in Olathe, Kansas, in February. In that case, the white man who allegedly opened fire on the two friends in a bar — and was later arrested and charged — allegedly told an employee there he had shot some "Iranian people," according to BBC News.
Both incidents align with the national pattern of cascading hate crimes that began after the November election of Donald Trump to the presidency and have persisted throughout his nascent tenure in the White House. It's nearly impossible to definitively prove the correlation, but Trump's own consistent, inflammatory fear-mongering about immigrants and minorities and his reticence to condemn violence against them strengthen the case of those who believe racists are emboldened by his rise to power backed by a soundtrack of white nationalism.
Sikh community leader Jasmit Singh certainly perceives a connection. Both Deep, the victim, and his family are "just very shaken up," he told The Seattle Times, but stressed that this was far from an isolated incident of hostility toward Sikh men in particular in the area. The "prejudice, a kind of xenophobia" that has recently manifested in verbal abuse and uncomfortable encounters with non-Sikh people is reminiscent of the tensions that colored Sikhs' interactions in the United States during the confusing time immediately following the 9/11 attacks. "But at that time, it felt like the [presidential] administration was actively working to allay those fears," he told The Seattle Times. "Now, it's a very different dimension."
While law enforcement authorities are investigating the shooting as a hate crime, the gunman — described as stocky, around 6 feet tall, and white — is still at large. For now, Americans (including the president and his administration) must band together to reinforce their intolerance of crimes motivated by race or religion.