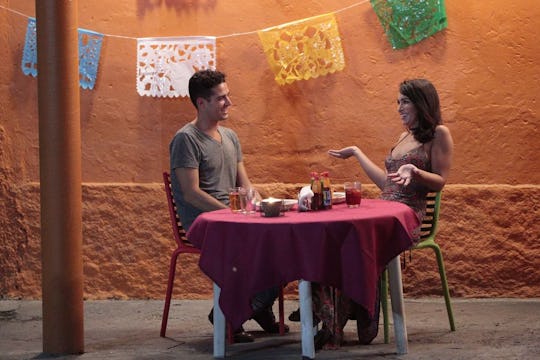 ABC/Rick Rowell
Who Is Wells Dating Now? The 'Bachelor In Paradise' Star Is In High Demand
When Wells made his entrance on Monday's episode of Bachelor in Paradise, it was like the slow motion introduction of Edward Cullen on Twilight because yes, we were all watching and we were all swooning. And, luckily for Jared and Caila, Wells's appearance was just in time for single Ashley to finally go on a date with someone and stop stalking the new couple. So, who is Wells dating now? As Monday night showed us, he is about to be high in demand in paradise, as the adorable, sweet, and down to earth real type of guy the cast has needed all season, and as more women show up, they'll be seeking him out.
As good as Wells and Ashley's date seemed to go (i.e. she didn't cry and he did kiss her), the very next day Jami shows up and somehow Wells is the only person around. Likely literally, everyone else is sleeping off their arguments, shots, or both. The two have an exciting date full of matching bathing suits, waterfall jumping, and sharing the same sh-t eating grins. So at this point, Wells is in a Zack Morris type of situation and is about to juggle two different women in virtually the same place.
But Tuesday night's episode of Bachelor in Paradise looks like it will see the arrival of yet another Wells fan, bringing him to go on another date with another new and attractive woman. That being said, what does this mean for Wells and his Bachelor in Paradise endgame? In a perfect world, he would become attached at the hip with Ashley for the remainder of the season (which isn't much longer), so that she can finally leave both Jared and Caila alone, but that wouldn't be fair to Wells. Because we all love Wells and we can't throw him to the wolves, literally, just because we want Caila and Jared to succeed as a couple.
But is Wells single now or did he leave paradise with the promise of dating one of his many dates outside of Mexico? Realistically speaking, it would probably be hard for any of his three prospective girlfriends to continue anything with him outside of Bachelor in Paradise and while Wells has said that finding love and romance in paradise would likely be a lot easier than on The Bachelorette, it's not that easy when you show up several weeks into the season with like a week remaining. And Tuesday night, Shushanna from Season 20 of The Bachelor will become yet another woman for Wells to juggle.
Ashley lives in New York City, Jami is from Canada, and Shushanna is currently in Salt Lake City, Utah, and those are all places that are a pretty decent hike from Wells in Nashville. Of course if the connection is legit, someone could always relocate, but this far into Season 3 of Bachelor in Paradise, it doesn't seem very promising that any new couple would be able to gain enough footing.
Wells has also been pretty hush hush on social media about being in any kind of relationship, which you have to expect since the show is still airing, but there have been zero clues for us to speculate on. If Wells is single after Bachelor in Paradise, though, can we start up a Wells For The Bachelor campaign?