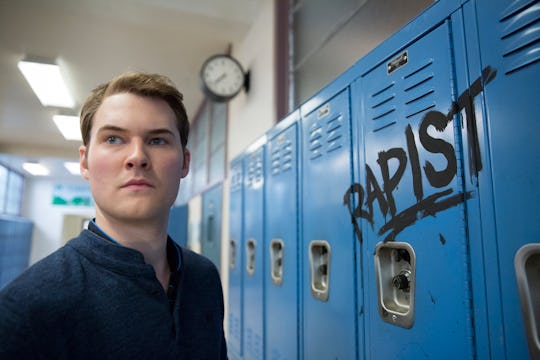 Beth Dubber/Netflix
Bryce's Death On '13 Reasons Why' Is The Focus Of Season 3
At the end of 13 Reasons Why Season 2, everything surrounding Hannah's life and death came to an end. Clay finally said goodbye to her, Jessica moved on from her own guilt and testified to help Hannah's mom win her case against the school and Bryce. For the most part, it was over — though Bryce had yet to answer for his crimes. But after the Season 3 trailer teased his death, fans were left wondering who killed Bryce on 13 Reasons Why other than the most obvious answer. Nothing is certain just yet, but I have some ideas.
Tyler, who at the end of Season 2 was brutally attacked by Bryce's henchman Montgomery, is the most obvious suspect. The season ended with an attempted school shooting by Tyler before he was stopped by Clay. Perhaps this was a wakeup call for Tyler. Or maybe he is the culprit in Bryce's Season 3 murder.
There are still a handful of other potential suspects for Bryce's murder, especially if Season 3 reveals another crime he got away with that the show hasn't yet introduced. Since Season 3 seems like it's going to be a whodunit, fans are likely already trying to figure out the mystery themselves.