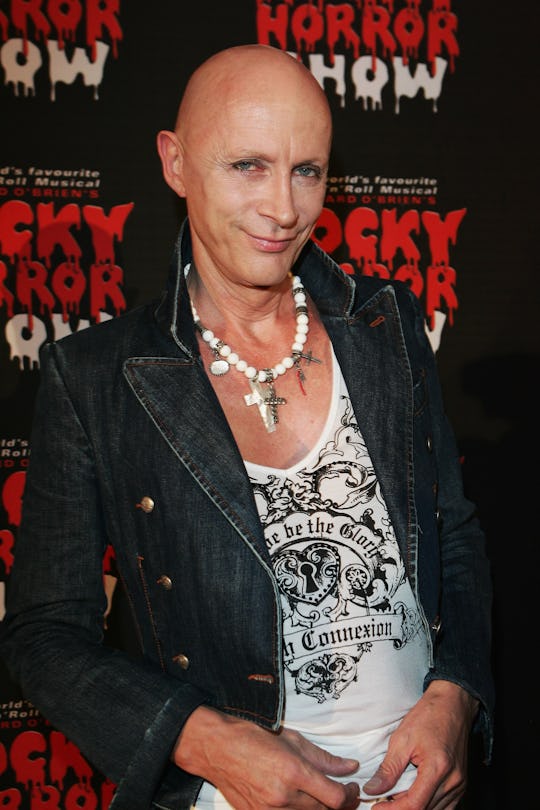 Gaye Gerard/Getty Images Entertainment/Getty Images
Who Played The Original Riff Raff On 'Rocky Horror Picture Show'? He Set The Bar High
When you think of The Rocky Horror Picture Show, you tend to dream up images of Tim Curry looking better than any woman in that corset and deep red lipstick, and for some, that's it. But for hardcore fans of the cult-classic, all of the characters made it what it is and with the FOX remake fast approaching, it's important to remember where it all came from. Like, who played the original Riff Raff on The Rocky Horror Picture Show? The creepy, campy and all around horror-inspired character was played by Richard O'Brien, who turned the eerie castle servant into a truly unforgettable role. However, it turns out that the actor, who played the iconic part, had a lot more say in the creation of the project than many fans may have realized. In fact, he was the one to adapt it into a film, according to the BBC.
The Rocky Horror Picture Show began as a musical theater production in 1973 with the help of director Jim Sharman, who'd previously cast O'Brien in a few of his own productions. O'Brien had written the draft of the comedy horror musical and Sharman helped him make it a reality, even suggesting that he change the title from They Came From Denton High to the famous title that is now like a household name. (Good decision BTW.)
A couple of years after the musical was a huge success, O'Brien brought The Rocky Horror Picture Show to the theater, where it became a cult-classic that even today kids are being introduced to and loving. He went on to appear in other productions and appears in smaller roles for both TV and film, such as Flash Gordon, Robin Hood, and Ever After. But as to be expected, the role and piece of cinema that he's best known for these days is playing Riff Raff on The Rocky Horror Picture Show.
Since the film also garnered all sorts of hits like Time Warp, Touch-a, Touch-a, Touch-a, Touch Me, and Don't Dream It, he's also been able to reap the benefits of his music appearing in multiple TV shows and movies over the years, including Glee, The Perks of Being a Wallflower, and Hawaii Five-O.
Tim Curry is set to be the only original cast member returning to the FOX remake of The Rocky Horror Picture Show, but Broadway actor and musician Reeve Carney will be playing Riff Raff this time around, drawing on O'Brien's dramatic, but mostly entertaining version of the character.
He may have passed the role on to someone else, but the genius behind The Rocky Horror Picture Show came straight from O'Brien more than 40 years ago. And for that, we thank him.