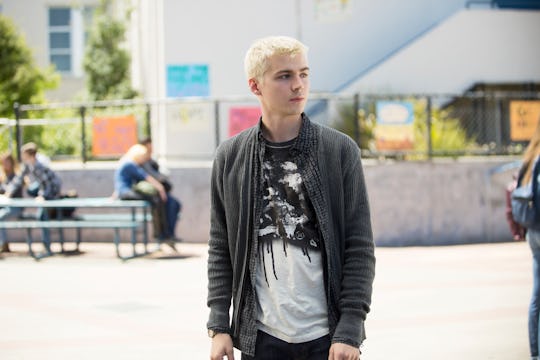 Beth Dubber/Netflix
Alex On '13 Reasons Why' Is No Stranger To The Small Screen
Unless you're familiar with the book, you probably don't know much about Hannah Baker's tragic story on the new Netflix series 13 Reasons Why, or how her various classmates fit into it all. That being said, the actor behind one particular character, Alex, will prove to be an extremely important part of the plot. So who plays Alex on 13 Reasons Why? I pretty much guarantee you've seen his work before now.
Miles Heizer is most well known for his role as Drew on Parenthood, but he's been working in TV since way before the tear-jerking drama came and went on NBC. Throughout the years, Heizer has appeared in popular shows like ER, Ghost Whisperer, and Private Practice, and in 2016 he co-starred with Emma Roberts and Dave Franco in Nerve. Despite his different dark and sometimes broody roles, though, in real life Heizer seems like he could be everyone's best friend.
He's been roommates with former Parenthood co-star Mae Whitman (who also played his big sister on the series) for the past several years. (Where do I sign up to be part of this loft?) Although he's played a lot of introverted or sidekick friend roles in the past, Heizer is donning bleached blonde hair (ahem, will the real Miles Heizer please stand up?) and a decidedly more frantic persona for his character in 13 Reasons Why.
Apart from his various acting roles, Heizer is also apparently into mixing music and excelling at that too. He's mixed and posted several different songs on Soundcloud, adding another layer to the guy that Parenthood fans already love so much. Although he'll always be Drew Holt to some, playing Alex on 13 Reasons Why is an even more important role for the actor. And he's nothing if not committed to the characters he portrays. In the days leading up to the release of Nerve, about a social media game of extreme truth or dare, Heizer tweeted that if fans sent him dares, he would try to complete most of them before the film's release. Talk about dedication.
Based on the young adult book, 13 Reasons Why brings to light very important issues that unfortunately still exist in real life, such as teen bullying and depression, just to name a few. The premise centers around Hannah as she chronicles what (or rather who) exactly led to her deciding to take her own life.
13 Reasons Why hits Netflix on Friday, March 31 and is definitely worth your time and attention.