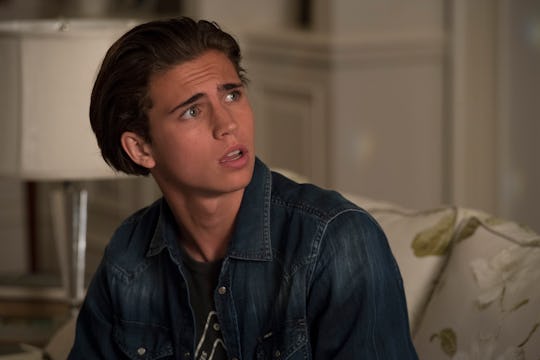 Ben Mark Holzberg/ABC
There's A Reason Chad From 'Fuller House' Looks So Familiar
Warning: Season 3, Episode 12 spoilers ahead! Now that the older kids of Fuller House have officially entered high school, there are bound to be new characters randomly thrown into the fold. In this case, it would be Chad Brad Bradley, Ramona's newfound dance rival and possible future love interest. But who plays Chad on Fuller House? Tanner Buchanan is basically a '90s teen heartthrob in present-day, but he's also a super talented actor who seems to have his plate full at the moment.
If you're one of the millions of viewers who have helped to make ABC's newer series Designated Survivor the hit that it is, then you might recognize Buchanan from that as the unwilling first son, Leo. But before he was causing trouble there, Buchanan was on The Fosters for several episodes during Season 4 and before that, he played the shy and sweet eighth grader Charlie in Girl Meets World Season 2. So at the very least, Buchanan isn't new to being a part of the reboots/spin-offs of some of the best '90s TV shows.
At just 19 years old, he seems to be constantly filming or working on something, and that alone makes me consider his role on Fuller House to be more important than just the dance bully to Ramona. Plus, like I said, he's giving me some serious Jonathan Taylor Thomas vibes and it totally works for him.
On Designated Survivor, Buchanan also works alongside his TV sister McKenna Grace, who plays Rose on Fuller House. The two probably won't have any scenes together, but it seems like they're definitely close in real life . In fact, they even attended the 2017 Toronto International Film Festival together back in September. (All together now — awww.) Perhaps his connection to Grace is how he ended up getting thought of for this Fuller House role.
Bachanan also apparently has jam sessions with the young actress, proving that not only is he probably one of the sweetest people in the world, but he also has some musical talent. A lot of Disney Channel actors tend to be double or triple threats, so that's not entirely surprising, but it's still another facet of the actor that you might not know if you're only familiar with his acting experience.
Buchanan is close to his real life family too, though, and seems as far from his pompous Fuller House character as he could possibly be. Judging by the photos on his Instagram and the comments they leave each other on them, they're basically sibling BFFs and it's nothing short of adorable.
But just in case you were considering looking for the next Tiger Beat poster with his face stretched over it, I should warn you that he's off the market and in a very committed relationship with actress Lizzie Broadway, who's been in Shameless, Bones, and Chicago P.D., just to name a few. Buchanan even posted a photo on his Instagram of the candles and rose petals he decorated the hallway with to welcome her when she came to visit.
Although he's well into his acting career now, Buchanan wanted to dance and perform from the time he was five years old. "I was always into tap dancing," he told The Blade, a Toledo newspaper near his hometown of Lima, Ohio. From the age of 5-8, he danced with the local Center Stage Academy in Ottawa and it was actually his dancing at a competition in New York City that got managers and agents contacting him to really begin his career. "He's always been very outgoing," his mother, Marlona, told the newspaper. "He was really good at soccer, and I think it was based on his dancing. He had a lot of coordination."
But don't think that because he's been working in California for a good while that he doesn't still have strong ties to where he grew up. "Coming back to Ohio is very relaxing because nothing goes on here," he added, of visiting his home state from California. "There's so much going on [in California], and to go to nothing is kind of nice to come back and relax when I can."
Buchanan might be a busy young actor with what seems like a constant stream of work coming his way, but he also still seems very grounded, which can be a rarity in Hollywood.
Check out Romper's new video series, Romper's Doula Diaries:
Watch full episodes of Romper's Doula Diaries on Facebook Watch.