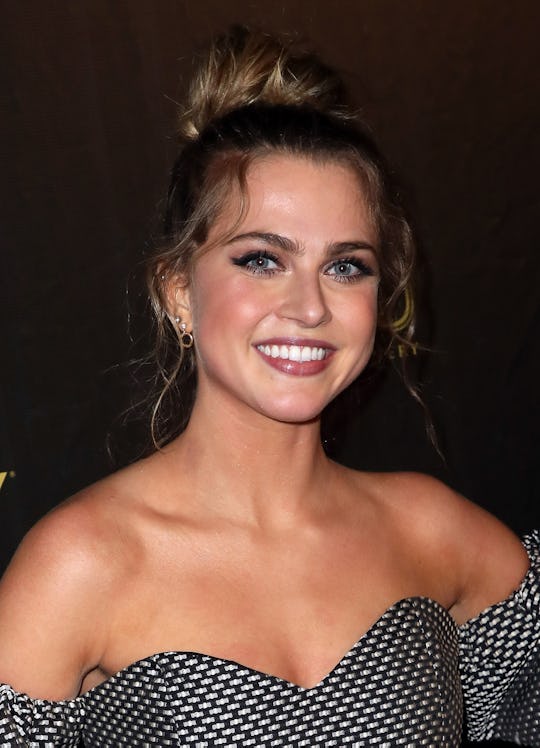 David Livingston/Getty Images Entertainment/Getty Images
The Person Playing Chloe On '13 Reasons Why' Was Almost Given A Very Different Role
After an intense and extremely emotional first season of the hit Netflix series 13 Reasons Why, there was an immediate demand for a second season. But with a new season is bound to come a few fresh faces to add to the mix, including the actress who plays Chloe on 13 Reasons Why, Anne Winters. She landed the role of high school cheerleader Chloe after a long audition process, but as it turns out, she was no stranger to auditioning for the director and producers of this particular show.
Before 13 Reasons Why ever premiered on Netflix back in 2017 or was even hinted at really, Winters auditioned for the role of Hannah Baker and almost got the part. However, she was eventually passed up for Katherine Langford. While you can't really imagine anyone else as Hannah now, it was tough for Winters to handle at the time. But since life has a funny way of working itself out, she was given the opportunity to audition for a new role for Season 2 and, as we now know, she got it. But as a whole, her acting career has been full of a lot of big moments that were perhaps leading up to this role for the young actress.
Winters grew up in Dallas and although it was expected of her to go to college like so many of those around her, she had every intention of following her dream instead. She's only 23 now, so her life back home is still likely fresh in her mind, but she admitted to Style Caster that when it came time for her to leave home and go to college, she led everyone to believe that she was doing just that and instead moved across the country to try and make it as an actress in Los Angeles. She even allowed her friends and family to throw her a going away to college party and everything. You have to admire her dedication to keeping the secret under wraps.
It totally makes sense, though, that Winters stuck with her passion rather than heading off to college. In a recent interview with The Italian Reve, she said that she fell in love with acting the first time she stepped onto a set at the age of 15. "I just fell in love with it," she said, adding:
Just being in front of the camera and being under pressure, and seeing what happens in the moment and really going for it. Every time you are on set and every time you are on camera it's something different and I feel different things happen every time, I just love the spontaneity of it.
Luckily, in the five or so years since her move to L.A., the trek across the country proved to be totally worth it. Some fans might recognize Winters from her multi-episode arc in an early season of The Fosters, but she also had a role on the short-lived ABC crime drama Wicked City. She's also going to be in the upcoming Kevin Hart and Tiffany Haddish movie Night School. Right now, she's one of the title characters in the Emmy Award-winning short form drama Zac & Mia, a show which also earned her an Emmy, but you also can't say no when Netflix comes knocking.
For Winters, being on a show like 13 Reasons Why has given her the opportunity to be part of something that deals with real problems and issues that teenagers are going through right now. As she told Haute Living, the first season of the show "didn't shy away from real issues and didn't sugarcoat them." That's likely why she so wanted to be part of the show from the beginning. And by playing Chloe, Winters is going to make a different kind of impact on the series.
Aside from acting, Winters also seems to be in an adorable relationship with a guy names Taylor Beau, who (judging from his Instagram) may or may not be a singer. But he's definitely quick with the supportive posts for her and they seem pretty serious. Honestly, from winning an Emmy at 23 and getting tons of work, Winters seems like she made the right move in bypassing college and pursuing her dreams the first chance she got. I can't wait to see how her talents fit into the second season of 13 Reasons Why.
If you or someone you know are experiencing suicidal thoughts, call 911, or call the National Suicide Prevention Hotline at 1-800-273-8255.