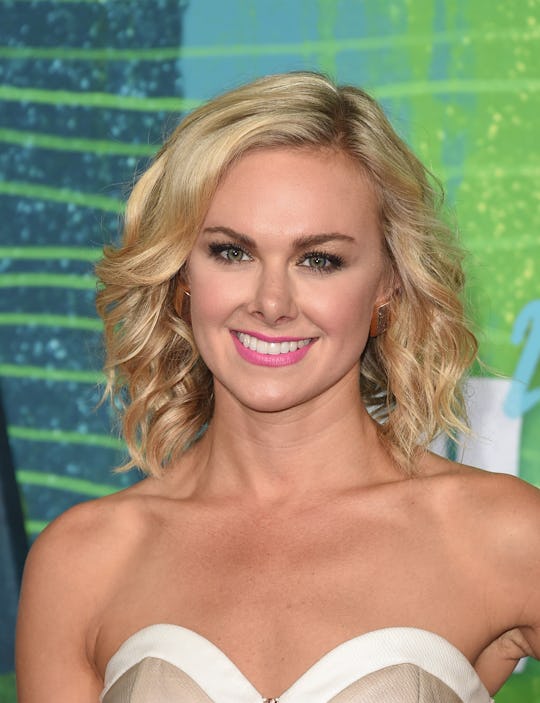 Jason Merritt/Getty Images Entertainment/Getty Images
Who Plays Joey's Wife On 'Fuller House'? Laura Bell Bundy Is Known For Her Music Too
The first season of Fuller House on Netflix introduced a lot of storylines and reintroduced most of the original cast, including Aunt Becky and Uncle Jesse's twins, Nicky and Alex, and even D.J.'s former boyfriend, Steve. But if the house wasn't already full enough, Season 2 is going to introduce viewers to Joey's family as well. But who plays Joey's wife on Fuller House? The role has been given to Laura Bell Bundy, and while hasn't been on Fuller House or even Full House before, she did just recently share screen time with John Stamos on FOX's Scream Queens series this season. (Small world, I know.) Plus, it's also worth mentioning that, much like her on-screen husband, Bundy has done plenty of comedy in the past, so something tells me that she'll be able to fit right in with the Tanner clan.
According to TVLine, Joey's wife, Ginger Gladstone, is a magician who is a little lax on the serious parenting front, much like Joey himself. So in other words, she's probably going to be a female version of Joey, which should be hilarious to see. Joey's family pops in for Episode 6, which will be Fuller House's Thanksgiving episode. And although little was mentioned about Joey's family before this point in time, the idea of him having a wife and kids back home in Vegas should fit in well with everything else going on. Because you know there is going to be a lot going on in a house that habitually holds a dozen people at any given time.
Bundy, Joey's wife on Fuller House, played the pill-popping Nurse Thomas from the flashbacks in this season on Scream Queens, and before that she was a series regular on Heart of Dixie and Anger Management. A Kentucky native, Bundy naturally dipped into music early on in her career. In 2010, her first single, "Giddy On Up," eventually reached number 31 on the Billboard Hot Country Songs chart. The single was made into a video and earned her a nomination at the CMT Music Awards for Breakthrough Video of the Year.
It would only make sense, then, for Bundy to have had some musical experience. In fact, she played Amber Von Tussle in her 2002 Broadway debut of Hairspray and went on to star as Elle Woods in Legally Blonde: The Musical. Currently, Bundy runs her YouTube channel, Skitsofrenic, which she uses as a comedy outlet for various sketches, sometimes featuring other celebrities, though, her original intent was to "create an online variety show."
There isn't much information yet released about Joey's wife on Season 2 of Fuller House, but Bundy is likely going to bring out some of that drama and comedy experience to portray Ginger, the sometimes clueless magician. In the immortal words of Joey himself: Cut. It. Out.