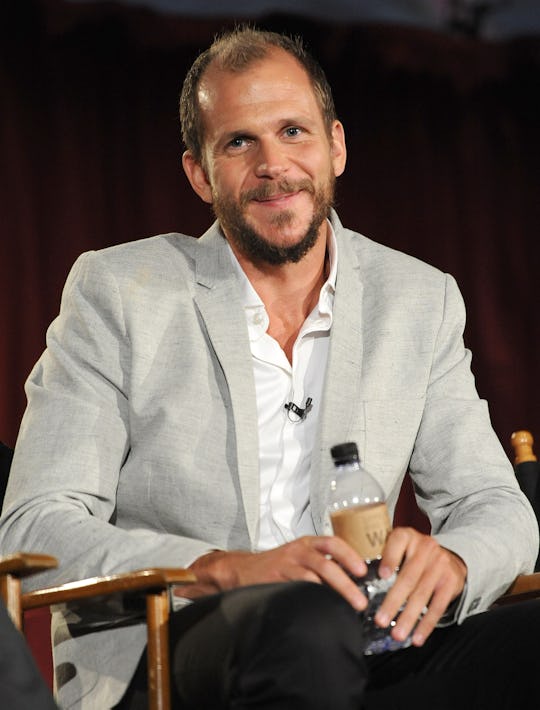 Angela Weiss/Getty Images Entertainment/Getty Images
This New 'Westworld' Actor Comes From A Long Line Of Hollywood Stars
Just when you thought there couldn't possibly be any more members of the ever-talented Skarsgard family, Westworld just added one to the show's growing cast for Season 2 as Karl Strand. The actor who plays Karl Strand on Westworld, Gustaf Skarsgard, is younger brother to Alexander Skarsgard of True Blood and Big Little Lies fame and older brother to Bill Skarsgard from Hemlock Grove and the remake of the horror classic It. Clearly, talent and acting in general runs in the family, especially since the brothers' dad, Stellan Skarsgård is also in the business, known for movies like Good Will Hunting and Thor.
But Skarsgard on Westworld also has plenty of impressive acting credits under his belt, most notably as Floki on the History channel's Vikings. Apparently he'll continue with the role while working on Westworld as well, which will be a relief for fans of the long running series. But he also seems excited about his new big role on Westworld.
Skarsgard told Interview back in October 2017 that although he'd auditioned for several other roles in addition to the part of Karl Strand on Westworld, he didn't make the cut for any of them. And when that happened, he assumed the worst, and that he would also be denied the role that he wanted the most out of all of them. Of course, we now know that he'll be joining the ranks of some other pretty big actors for Season 2.
He also revealed to Interview that he'd known at a young age that acting was what he wanted to do, especially as he'd witnessed his dad's experience in the career field. "To any child, the first occupations that are presented to you are your parents'. I was appealed to my dad's occupation from the get-go," he said. He also explained that it was almost natural for his brothers to also follow in the footsteps of their father, even living far from Hollywood in Stockholm, Sweden.
But that didn't stop Skarsgard from attending drama schools and learning the craft well before beginning to land roles at a young age. He even admitted to Entertainment Tonight that at times, there's a bit of an air of competition between the brothers in the family, although they're also quick to praise each other for their individual accomplishments. "Even if I'm at my lowest, insecurity and everything, I would still always wish the best for my brothers," Skarsgard said. Now, Westworld might be one of his bigger roles to date.
Growing up in Sweden afforded Skarsgard the ability to embrace the world of acting while also being shielded from the pressure of living and working in Hollywood. But, he told Fox News, even living so far from the mecca of show business, he knew early on that he wanted to be an actor much like the majority of his family.
It looks like there isn't much to be said for Skarsgard on social media, though. There are a couple of different Instagram accounts that may or may not be his, but neither have been verified or confirmed. That being said, he's likely just too busy with work to concern himself with social media anyway. With Westworld now taking a big chunk out of his schedule and Vikings still going strong, Skarsgard has been working harder than ever.
His character on Westworld Season 2 is described as a "white collar guy who's comfortable in the field," so that could mean another important guest at the park, a la William's the Man in Black, or perhaps a new executive from Delos who wants to fix or control the Hosts once and for all. Either way, it's another big role for the Swedish actor and one that seems incredibly important to him.
Check out Romper's new video series, Romper's Doula Diaries:
Watch full episodes of Romper's Doula Diaries on Facebook Watch.