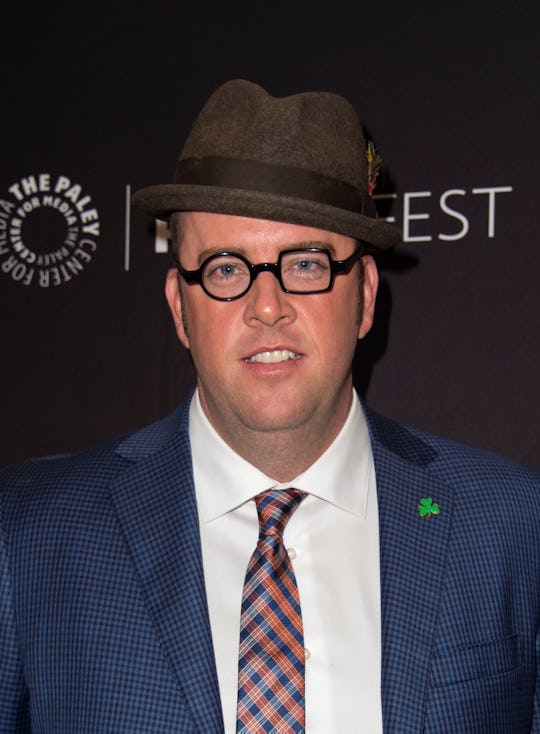 VALERIE MACON/AFP/Getty Images
Who Plays Kate's Boyfriend On 'This Is Us'? Chris Sullivan Is Just As Cool In Real Life
When This Is Us premiered on Sept. 20, it was hard to not feel connected to one of the characters in some way. And right from the beginning, it was hard not to get in Kate's corner 100 percent. Also in her corner was Toby, her quick love interest after meeting him at a support group. But who plays Kate's boyfriend Toby on This Is Us? It's probably safe to call him that, now that they've gone on a couple of dates and he's succeeded in being increasingly adorable. It's probably not surprising, then, that Chris Sullivan is just as cool and adorable in real life as the guy he plays on This Is Us.
After only the first bunch of episodes, NBC has already picked up the series for a full 18-episode season and Sullivan's character is an easy fan-favorite, already. Toby, who's also struggling with his weight but seems super confident and full of life, is there to constantly encourage Kate and be her cheerleader and so far, he's made a serious impression. As in, This Is Us fans are all aboard the Kate and Toby love train. But the character probably wouldn't be nearly as sweet if he was played by someone else. So, who plays Kate's boyfriend in This Is Us?
He's A Musician In Real Life
Those dance movies in the second episode of This Is Us are obviously all Sullivan and just a little bit Toby, because in real life, the actor is a musician with a band called Sully and The Benevolent Folk. The style is decried as vagabond blues folk and it's definitely a specific sound, but makes you want to tap your foot and just listen. And, you know, maybe bust out a more demure version of some of those Toby dance moves.
He Was On Stranger Things
If you thought Toby on This Is Us looked familiar, maybe it's because you didn't realize you recognized him from Netflix's Stranger Things as Benny Hammond, the super nice diner owner who helped Eleven when she was first out on the run from the lab. The poor guy's kindness was his weakness though as he was (spoiler alert) shot and killed by the agents after Eleven, but Sullivan had a strong one-episode run on the new Netflix series.
He's Also Been On Broadway
Sullivan has been a few different Broadway productions, including Chicago The Musical, in which he played Amos Hart and Lombardi, where he played former NFL player Jim Taylor. That should have probably been a big clue to the fact that he's also a professional singer in his band, but on Broadway Sullivan was able to use both his voice skills and acting chops to his advantage, all at the same time.
We're Probably Going To Be Seeing A Lot More Of Him
Recently, Sullivan appeared alongside Daniel Radcliffe in Imperium as an intimidating white supremacist and next year, he'll be one of the main villains, Taserface, in Guardians of the Galaxy Vol. 2, which also stars Chris Pratt. On This Is Us and in life in general, Sullivan is adorable, talented, and pretty much the best kind of guy we could hope for for Kate, and because of Sullivan's recent rising star, we can only assume that he's going to be getting more attention and more big screen opportunities.