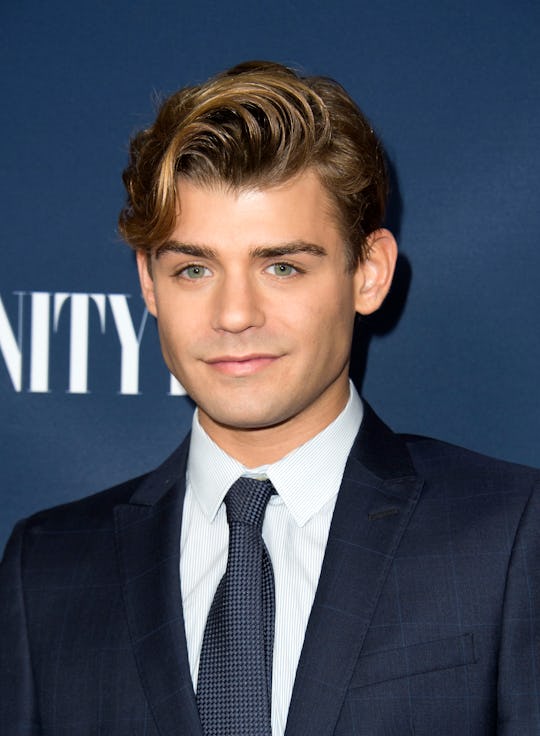 VALERIE MACON/AFP/Getty Images
Who Plays Link Larkin On 'Hairspray Live!'? Garrett Clayton Has Experience As A Performer
Although I have seen both the original and the John Travolta Hairspray movies, I am not a musical person. In fact, there are only a select few that I get into and actually enjoy, so I can appreciate pretty much every version of Hairspray, and that includes the upcoming Hairspray Live! set to air on NBC on Dec. 7. But with a new version comes a totally new cast, so who plays Link Larkin on Hairspray Live!? Garrett Clayton isn't as well-known as Zac Efron, who played the dreamy character before him, but you probably know him from TV, where he's been for the past several years making a name (and a voice) for himself.
Most recently, Clayton was on Freeform's The Fosters and was in both Teen Beach Party and Teen Beach Party 2, which involved him using those singing chops of his, so he definitely has the experience he'll need to bring Link to life on Hairspray Live! He also starred in the 2016 movie King Cobra, in which he played Brent Corrigan, a young up-and-coming porn star, alongside James Franco and Christian Slater. So yeah, Clayton's actor card is starting to get pretty full, meaning he's probably more than earned his spot as Link.
He might not be Zac Efron, but Clayton has the kind of face that will make you ask "Zac who?" so he already has that going for him. Not to mention...
He Knows The Kind Of Eye Candy His Followers Want
Instagram is the place for your photos of food, pets, and babies to live, and Clayton has already shared a few photos of his newly adopted husky that make you want to marry the guy even more than before. He adopted his new pup, D'Artagnan, after his other passed away, so yeah. Swoon.
He Will Give You Serious Hair Goals
I know he probably has hairstylists to help him out sometimes, but Clayton's hair is always, always, on point in his photos. He will make you feel shameful of the 30 minutes you spent this morning over hair that has now fallen flat.
He Loves His Fellow Castmates Of Hairspray Live!
Recently, the 25-year-old actor spoke to Access Hollywood about acting, dancing, and singing with the rest of the cast. Clayton said, "The level of talent we have on this show is insane," which is plenty true but it's still nice to see that he's still humbled by it all.
He Was Part Of The Almost Famous: In Concert Tribute Band
In May of 2016, Clayton was part of the cast of the Almost Famous In Concert tribute band, which played out different songs inspired by the movie, Almost Famous. Playing Link on Hairspray Live! might be on a much larger scale than that, but you have to respect all he's done to get to where he is now.
Hairspray Live! premieres on NBC on Dec. 7 at 8 p.m. (ET) to bring back all of the fun and amazing characters that have been mastered time and again in both movie and stage productions. Don't miss it!