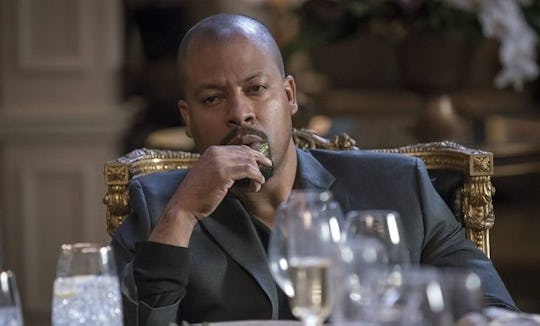 Who Plays Lucious' Brother On 'Empire'? Morocco Omari Isn't New To Playing A Detective
Call it type-casting or just plain luck that you happen to know how to play a sly FBI agent or detective, but that's what the case is with the newest semi-permanent cast member on Empire. But who plays Lucious' brother on Empire? Morocco Omari is an experienced actor who's played an FBI agent or otherwise detective in plenty of other roles, so if he seems like he must be a cop in real life, that's probably why. Omari might not be a real FBI agent, but he just keeps playing one on TV. And we're totally cool with that.
Right now on Empire, Tariq Cousins (by the way, why does that have to be his last name?) is all about bringing his half-brother Lucious down because of all of the dozens of crimes the man has committed over the years, but has somehow barely paid for himself. I.e., Cookie spending 17 years in prison to protect him, and that little stint he did for just a few months before he was let out. Lucious' downfall has been a long time coming and Tariq seems to think he's the one who's going to make it happen. Which, let's be honest, seems like a fool's errand at this point, but it's worth a shot. Never mind the fact that we only just now learned about Lucious even having a brother in the first place.
Born in Chicago, Omari started acting in bit TV parts and short films in his early 20's and hit it big with roles like a detective in Dragnet, a detective in Chicago Fire, and a CIA agent in Homeland. But when he's not playing a crime fighting sleuth, Omari is writing and directing short films and working in theater, but also spending time with his daughter, who is one of the only other humans featured on his Instagram who aren't part of screen caps.
Editor's Note: The Instagram post has since been deleted.
Omari's most recent role is as Tariq on Empire, where he's already started to shine as Season 3's main antagonist and sort of bad guy. He does it so well, but probably because of all of the experience he's already had playing different levels of law enforcement on TV. But apparently that was all leading up to his sometimes comical and mostly intimidating portrayal of Tariq on Empire. No, Omari isn't a cop in real life, but he just plays one on TV. A lot.