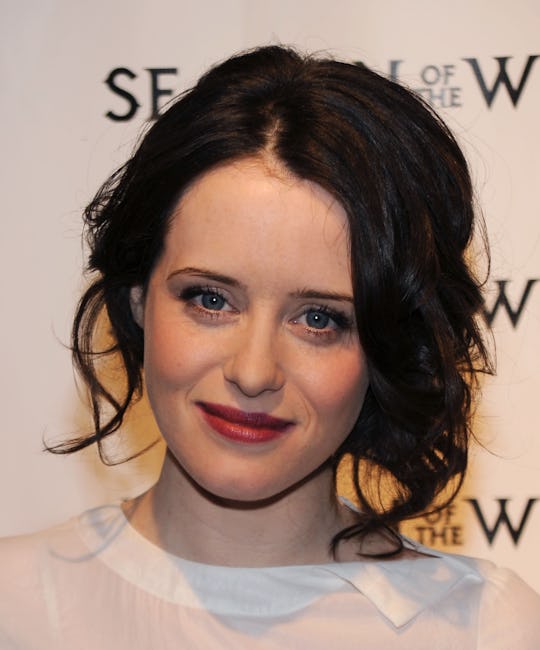 Larry Busacca/Getty Images Entertainment/Getty Images
Who Plays Queen Elizabeth II On 'The Crown'? Claire Foy Has Played A Queen Before
Lately, Netflix has been all about busting out their original movies, documentaries, and TV shows at a rapid rate. In fact, they debut so fast that you don't have time to mourn the end of one project because you have another waiting on the back burner. Or, you know, on your Netflix "list." So now that The Crown has premiered on Nov. 4, it can officially be added to the roster of genius Netflix Originals. But who plays Queen Elizabeth II on The Crown? Although you might only know her if you frequent the BBC channel or have a thing for young adult movies like Vampire Academy, Claire Foy has been working in TV for almost 10 years and has more than earned her spot as the iconic royal lady herself.
But that could just be because Foy has played a queen before, on the BBC's Wolf Hall as King Henry VIII's second wife, Anne Boleyn, who reigned as England's queen from 1533 to 1536. It certainly helps to play Queen Elizabeth II when you've already had experience playing an English queen before. Granted, they were two very different queens with two very different backstories, but you get the idea. Plus, it also helps that Foy has worked enough to be experienced, but remains humble enough to accept roles that will help advance her career.
Foy will be starring in Netflix's The Crown on Friday, November 4, but there's a lot more to the English actress than her upcoming role.
She's Not Big On The Whole Hollywood Image Thing
According to The Guardian, Foy had said that unlike most other actors, being photographed actually makes her uncomfortable and that she's never been one who was big on publicity. She also added, "I'm never going to be a film star and I'm not chasing it. I'm very happy playing interesting parts," which makes you just love this actress, who is already proving to be very much like the strong and very real Queen Elizabeth II.
She Had A Role In Vampire Academy
Based on the young adult book series of the same name, Vampire Academy was released in 2014 to a less than stellar reception which should have, by all accounts, been much more successful in that it was from a series that already had a following and it was about vampires. Because, vampires - duh. Unfortunately, the movie didn't have as much success as expected, earning $15 million with a budget of $30 million, but Foy played Ms. Karp, an unhinged teacher at the school.
She Studied Drama And Film In College
Foy went to Liverpool John Moores University, where she studied drama and film and had originally planned to become a cinematographer. But after her drama teacher suggested it, Foy went on to attend the Oxford School of Drama for a year, where her acting talent really began to shine and it was shortly after that when she began to land her TV roles on the BBC.
She Chooses Her Parts Carefully
Instead of taking any role that comes along, Foy seems to take pride in the fact that the roles she accepts are ones that are important to her and mean something more than another paycheck. Instead, she's most happy finding interesting parts, like Anne Boleyn on Wolf Hall or Amy Dorrit on Little Dorrit. And yes, like her most recent upcoming role as Queen Elizabeth II in The Crown.
The Crown premieres on Netflix on Friday, Nov. 4 with all 10 episodes available for streaming.