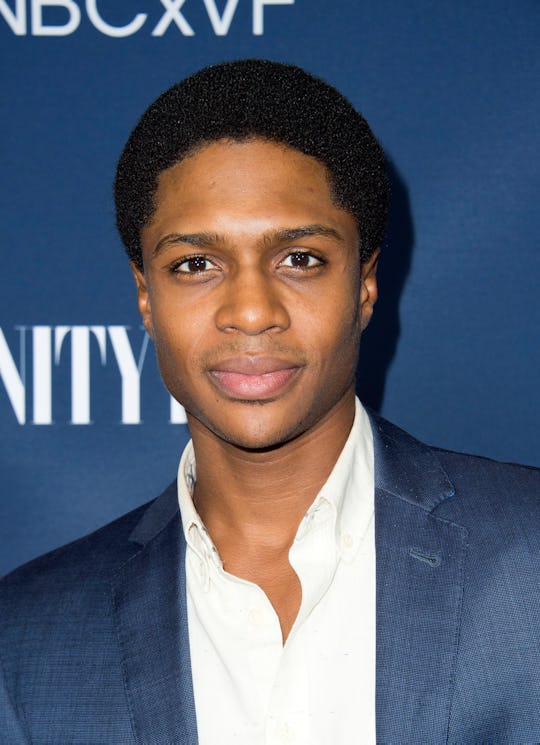 VALERIE MACON/AFP/Getty Images
Who Plays Seaweed On 'Hairspray Live!'? Ephraim Sykes Is Most Known For Theater
In order to succeed in the environment of a musical like Hairspray, you have to have a certain amount of dancing or stage performing experience. And if you're playing a lead like Seaweed, opposite to Ariana Grande in NBC's Hairspray Live!, you definitely have to have that extra oomph. So, who plays Seaweed on NBC's Hairspray Live!? Ephraim Sykes is no stranger to the Peacock Network, but he's also plenty familiar with stage acting and dancing. So there's no question that he has what it takes to make this role his own.
Seaweed in Hairspray Live! is the son of Motormouth Maybelle and plays an integral role in integrating the Corny Collins Show. Along the way, he befriends Tracy Turnblad and Link Larkin, and gets romantically involved with Penny, Tracy's BFF. In the musical, he also helps in sabotaging the Miss Teen Hairspray contest in order to get Tracy on-air. And in the end, it helps his little sister, Inez, win the competition by a landslide.
At 31, landing a starring role in a musical isn't foreign to Sykes. Up until September, he was George Eacker in Hamilton and played a member of the Jackson 5 in Motown The Musical in 2013. But aside from his stage history, Sykes has a lot going for him.
You might recognize Sykes as a dancer on NBC's Smash, or as Michael in two episodes of 30 Rock back in 2011. Suffice to say, he's no stranger to NBC. But who is Sykes, the actor who plays Seaweed on Hairspray Live!?
His First Musical Was On Broadway
According to Playbill.com, Sykes' first ever musical audition was for The Little Mermaid on Broadway and he got it, despite being super inexperienced and not even knowing what a playbook was. He also said himself that he pretty much winged it, as he was expected to know how to tap dance, flip, and glide across the stage while wearing Heelys (remember those?). "I sing, I tumbled with my eyes closed, and made it and survived," Sykes said. "I put on these freakin' Heelys and skated across this room. I faked my way through that tap dancing, and I booked this job."
He's An Over-Achiever
As a teenager, Sykes also tried to do any and everything that he wanted, multitasking to the point of lying to his dance instructors in order to play football. So he's not only capable, but also willing to have many different projects on his plate.
He Was A Regular On An HBO Drama
Vinyl, the HBO period drama created and executive produced by Mick Jagger, ran for one season in 2016 and was renewed for a second, only to have plans for a Season 2 fall through. Still, at the time of its airing, Vinyl was a pretty big hit and Sykes was a huge part of that.
He Knows How To Stay Humble
According to Out magazine, Sykes owes his dedicated work ethic and focus on performing to his mother, who was a choir teacher, and his father, who was a preacher. "My parents said, 'Always remember somebody's better than you,'" Sykes said. He's also been open about how much being a part of Hamilton has changed his life for the better, opening him up to praise and accolades from people he hadn't even spoken to in years.
Sykes will be playing Seaweed on Hairspray Live! next, putting those expert dancing and theatrical skills to use in yet another live performance, though this time it's on national television. So, no pressure or anything. Hairspray Live! airs on NBC on Dec. 7 at 8 p.m. ET.