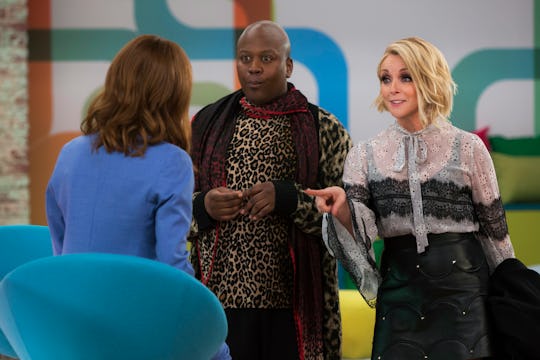 Eric Liebowitz/Netflix
You Might Recognize The Voice Behind The Opening Song In 'Unbreakable Kimmy Schmidt' Season 4
Other than Kimmy having yet another new job and the last season being broken up into two separate parts, one of the big differences about season four of Unbreakable Kimmy Schmidt is the theme song. Gone is the catchy and somewhat empowering auto-tuned song of the first three seasons, and in its place is now an upbeat sitcom theme song called "Little Girl, Big City!." But, who sings the opening song in Unbreakable Kimmy Schmidt season four?
The song itself is a big change from the original song that proclaimed "females are strong as Hell," but it's still empowering in its own way, especially for a slightly more grown up Kimmy ready to make it on her own in the big city. Okay, that might be stretching it a bit, but you get the idea. If the voice in the song sounds familiar, that's because the opening song is actually performed by Jane Krakowski, who plays Jacqueline, a.k.a. Kimmy's former boss-turned-friend and now wannabe socialite.
The premiere episode of season four opens up with the theme song, and although some of the episodes following it don't feature the theme or any theme song at all, it was still likely meant to be the new official theme song of the show in its final season. Even ahead of the May 30 premiere of part one of season four, one of the promos featured the theme song and a chipper Kimmy getting ready for her day to the song that isn't unlike "Love Is all Around" from The Mary Tyler Moore Show's opening.
Of all of the stars of the show to sing the opening song in Unbreakable Kimmy Schmidt, Krakowski was probably an easy choice. Although fellow star Tituss Burgess is also an experienced singer, Krakowski has more than proven herself to be an accomplished singer in her own right as well. She's previously won a Tony Award for her work on Broadway and continues to work in different productions while she appears in TV as well. And since Burgess has been given tons of opportunities to create some pretty epic songs and videos throughout the course of the show, Krakowski's turn came with the new theme song.
Most recently, Krakowski is part of the concert production of Beauty and the Beast, in which she plays Mrs. Potts, and so far she's knocked it out of the park. So naturally, she was a stellar choice for Unbreakable Kimmy Schmidt's new opening song.
Speaking of the song itself, according to Playbill, it was written by Jeff Richmond and Sam Means of Mean Girls musical fame, which was based on the movie by Tina Fey. In fact, the men were also previously nominated for an Emmy Award for their previous work in creating music for Unbreakable Kimmy Schmidt. Despite being another original song for the series, you can't help but liken it to "Love Is all Around" from the The Mary Tyler Moore Show, but I'm guessing that was kind of the point.
The original theme song for Unbreakable Kimmy Schmidt was all about Kimmy's rescue after being held in an underground bunker for the past 15 years, but this new theme song could be a symbol of Kimmy herself moving on from being the victim that was abducted as a teenager. Don't get me wrong — I fully expect more of the same outrageous and goofy comedy that the series is known for, but the new opening song seems to symbolize a new and older Kimmy really taking steps toward moving forward and away from her past completely. This is the last season, after all, so it would kind of be perfect timing for that.