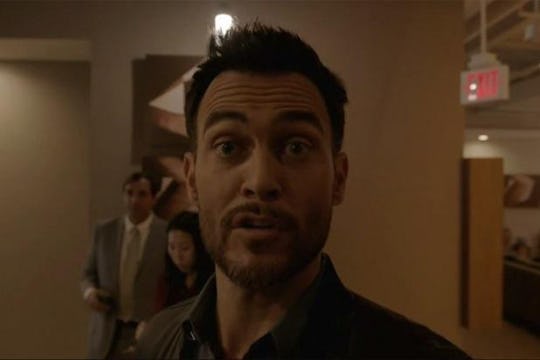 FX
Who Survives On 'AHS: Roanoke'? 5 Reddit Theories That Consider Almost Everyone
By now, it's safe to call this season of American Horror Story the season that keeps on giving, because that's exactly what it's been doing. First, we had the new format of the show within a show and now things are getting switched up with the very meta reality, hidden-camera show within AHS. And to top it all off, we've also now learned that there will be just one survivor at the end of this My Roanoke Nightmare remake, Return To Roanoke: Three Days In Hell. But who survives on AHS: Roanoke? We know for a fact that there can only be one, and while most of the characters currently ensconced in the haunted farmhouse aren't all that deserving of salvation, there are a few who could really come out of this thing alive. But again, there can be only one, so who will be the sole survivor on AHS?
At first glance, you might say Matt, Shelby, or Lee, since they're the only "good" people left on the show. However, Ryan Murphy doesn't have to make this a perfect story with a happy(ish) ending, all wrapped up in a nice bloody AHS bow. So to that tune, the survivor of AHS: Roanoke could very well be one of the awful actors who are also staying in the farmhouse. They could either leave as the only surviving member from the team or become haunted forever by whatever is about to take place in that house, making it a not so happy ending after all.
Either way, you know that fans all over the internet have been coming up with their theories about who survives, and these Reddit theories about the AHS: Roanoke survivor will help give you life... even if most of the cast is about to get the axe both literally and figuratively speaking.
Matt Will Survive
Right now, the only "good" person in the farmhouse is Matt, which can be either a very good thing or a bad thing, as far as his fate is concerned. According to Redditor ilovetorunforfun, Matt will be the survivor though, because of his involvement with the witch of the woods, a.k.a. Scathach. If you remember, she used her magic to get him to have sex with her once, and then they almost did it a second time, so her attraction to him for whatever reason was there the first time he was in the woods.
He's also not particularly afraid to be back in the farmhouse during the blood moon, so does he know something we don't about what Scathach wants from him or the rest of the houseguests?
Shelby Will Be Your Final Girl
The real Shelby, that is. She may have made a few mistakes with the actor who played her husband in the reenactments on My Roanoke Nightmare, but she seems like a decent person at heart. And according to Redditor judy_bo_booty, Shelby is most likely to be the survivor on AHS: Roanoke.
Since Shelby has been the main protagonist of this season and has gone through a lot, judy_bo_booty theorized that Murphy will give her character the benefit of surviving through all of that, just like Cordelia in Coven or Lana in Asylum. Both of those roles were also played by the actress (Sarah Paulson), who played Shelby in the reenactments, so there could be a very distinct pattern there.
Lee Will Be Left Standing
Lee has said that the only reason she agreed to appear on the Return to Roanoke reality special was to help clear her name, since My Roanoke Nightmare left her with a tarnished reputation and most of the public thinking she was to blame for Mason's murder.
But instead of having the show clear her name, santasangre254 on Reddit suggests that the show will actually hinder any chances of this and instead find herself blamed for the other deaths that occur in the farmhouse. And, according to the theory, what we're currently watching is the footage she hopes will be used to exonerate her.
Agnes Will Come Out On Top
That's right, the actress who played The Butcher will be the sole survivor of AHS: Roanoke, at least, according to this theory from AlizeEdeline on Reddit. The theory claims that what we're watching is leading up to a docu-drama in Episode 10 that will feature Agnes, who wins a Saturn award by helping the studio put together the found footage in order to release it to the public. This seems fairly possible given all of the intrigue already surrounding Agnes, but throw some more supernatural elements in there and we'll talk.
Rory Didn't Really Die
Redditor PhoenixHusky brought up the idea that Rory only faked his death to kickstart the drama on the reality show, which is part of the special effects that the crew were involved in. And Jessikizzle added onto the theory by suggesting that Sidney was part of convincing Rory to go along with the fake death, as it would garner him more attention and fame.
Obviously we would all love for good to prevail and in some of the past seasons of AHS, good did win out over evil. But no matter what, there is going to be one survivor on AHS this season and it's still anyone's game.