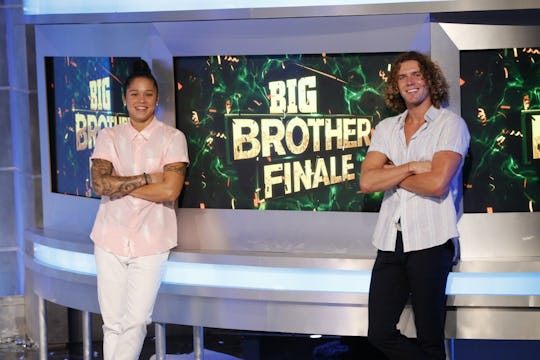 Sonja Flemming/CBS
Jury Votes On The 'Big Brother' Finale Ended In A Tie-Breaker
When it came down to the choice between Tyler and Kaycee on the Big Brother 20 finale, it wasn't an easy decision. The houseguests were almost evenly divided and Kaycee took the prize home after their 5-4 vote. But who voted for who on Big Brother? It was an important voting ceremony and one where the final two houseguests' fates were in the hands of the former houseguests whom they'd evicted earlier in the season. But game recognizes game and the jurors were able to put aside any grievances to vote for who they each thought was most deserving.
When it came down to it, the members of Level 6 who were in the jury stuck by Tyler's side. Kaycee was also part of their alliance, but Tyler was the unofficial leader. Therefore he got votes from Brett and Angela. He also got JC's vote, likely because they had a strong bond and Tyler had never really openly gone against him. It was Kaycee, after all, who chose to send JC to the jury after the final head of household competition. Tyler's other vote was from Haleigh, who said during the episode that she'd made her decision that night based on Tyler and Kaycee's separate speeches.
It would have been perfect to hear another one of Faysal's "who flipped?" rants, but I guess the live finale was strapped for time.
That left Bayleigh, Scottie, Sam, Faysal, and Rockstar to vote for Kaycee. All season, Kaycee kept the blood off her hands while still voting with her alliance. But what she also did was develop relationships with other members of the house who weren't part of the all powerful Level 6. That's where she went right and Bayleigh's tie-breaking vote was probably a direct result of Kaycee's impeccable social game.
Although Tyler had played a strong game of his own, he wasn't all that surprised that Bayleigh's vote made Kaycee the winner. "I think [Kaycee won] just because she had more of a personal relationship with Bayleigh," Tyler told Entertainment Weekly following the season finale. "[With] pretty much the other side of the house, she had a better personal relationship."
And while he wasn't surprised that Kaycee got Rockstar and Bayleigh's votes, he was surprised by the voting choices from some of the other houseguests. "I was a little bit shocked that Scottie did not vote for me, and I was a little bit shocked that Fessy didn't vote for me," he admitted. "I thought I had those two. But other than that, I was sure Rockstar and Bayleigh were going to vote for Kaycee, so that's why when it came down to it, I was like, 'Kaycee, you got this. Without a doubt.'"
The five houseguests who were sent home before they had the chance to be sent to jury, Winston, Swaggy C, Rachel, Kaitlyn, and Steve, were also divided on who should win Big Brother this season. Rachel told The Hollywood Reporter in a group interview that, if given the chance, she'd have voted for Kaycee. Swaggy C, on the other hand, said in the same interview that Tyler was most deserving of the grand prize. Steve, being Steve, said, "Let them split it!" But he also agreed that he would have voted for Tyler to win. Obviously it wasn't an easy decision for any group of former houseguests to make, and when it came down to it, the votes were close.
I honestly don't know how I would have voted in that situation. Maybe I would have faked cramps to get out of it, à la gym class '04. But it wasn't a big surprise that Bayleigh's tie-breaking vote helped Kaycee win, given her history with Tyler. But I wouldn't say no to the Big Brother bosses bringing Tyler back as a returning veteran somewhere down the line.