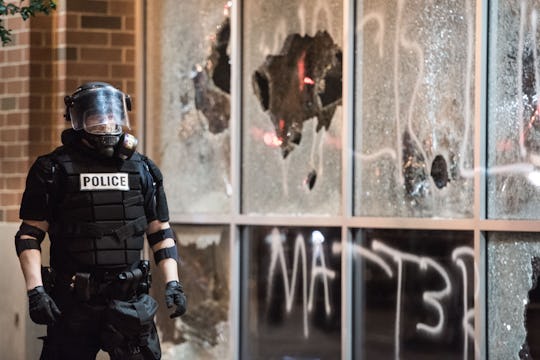 Sean Rayford/Getty Images News/Getty Images
Who Was The Person Shot During The Charlotte Protests? One Victim Is On Life Support
Wednesday night in Charlotte, North Carolina disintegrated into a flush of looting, the deployment of tear gas and rubber bullets, arrests, and reinforcements from the National Guard, as angry clots of protesters demonstrated against the police shooting of yet another black man. Keith Lamont Scott died in an apartment complex parking lot Tuesday afternoon, and in the outraged aftermath, another civilian has come precariously close to doing the same. The person shot during the Charlotte protests is in critical condition and on life support. Not much is yet known about this unidentified man — not what exactly drew him to the protests, nor whether he will survive.
Update: NBC Charlotte affiliate WCNC-TV has reported that the unnamed protester shot during Wednesday's protests has died of his injuries.
Update, 8 p.m. ET: Police have identified the deceased protester, who was shot in the head, as Justin Carr, 26. Officials have launched a homicide investigation, according to The Charlotte Observer.
Protesters are incensed over Scott's death, and law enforcement officials are intent on regaining peace as dueling narratives about what happened emerge. Some witnesses and family members of the 43-year-old father insist that he was unarmed and reading a book in his car when police officers looking for someone else approached him; The chief of the Charlotte-Mecklenburg Police Department claims Scott exited his car brandishing a gun and ignored officers' repeated requests to put it down, CNN reported.
But the facts are this: Scott is dead at the hands of an officer, Brentley Vinson, who is also black. And in the ensuing violent scrum, another man was shot and gravely injured in what officials are calling a "civilian on civilian" confrontation.
Just after 8:30 p.m. local time on Wednesday, on the heels of the chaotic incident that occurred on a crowded street in Charlotte's city center, the city tweeted that the shot had been "fatal" and emphasized that police officers were not responsible. The correction tweet went live just over an hour later, confirming that the situation was serious, but not deadly.
That same night, 44 people were arrested, and four police officers reportedly sustained non-life-threatening injuries. These developments came the evening before Charlotte-Mecklenburg Police Chief Kerr Putney announced at a news conference Thursday that although that police body camera footage of the killing does not show Scott pointing a gun directly at officials, "taken in the totality of all the other evidence," the video allegedly backs up the police version of events, according to NBC News. Right now, officials plan to allow Scott's family to view the video, but not to release it publicly.
On that disastrous second night of protests, though, the scene of another shooting was perhaps similarly horrific. The New York Times reported Wednesday that after the sound of gunfire mingled with the banging noises of the protest, a man lay with his eyes open on the ground, and he was eventually taken into the nearby Omni Hotel. Police then worked to keep people from entering — maybe even some of the same people at whose feet the shooting victim's blood had pooled.
It was surely the type of heartbreaking scene that the deceased Scott's wife, Rakeyia Scott, had meant to warn against in a statement she released Wednesday, according to CNN:
Keith was a loving husband, father, brother and friend who will be deeply missed every day. As a family, we respect the rights of those who wish to protest, but we ask that people protest peacefully. Please do not hurt people or members of law enforcement, damage property or take things that do not belong to you in the name of protesting.
Despite Rakeyia Scott's pleas, people are angry and scared. Scott's death is the third in a string of recent high-profile police shootings of black people: On Friday, Terence Crutcher was shot by police in Tulsa, Oklahoma, in the street after his vehicle broke down. Earlier that same week, 13-year-old Tyre King, an alleged burglary suspect carrying what turned out to be a BB gun, died from wounds inflicted by police bullets, too. These deaths have intensified the quest to prove that black lives really do matter; So, too, does the life of the unnamed gunshot victim as he receives treatment, and, hopefully, recovers.