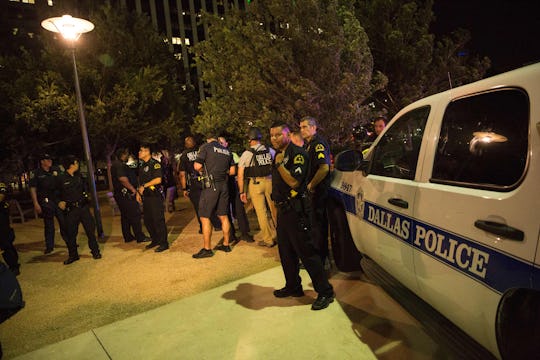 LAURA BUCKMAN/AFP/Getty Images
Who Were The Officers Killed In The Dallas Shooting? Five Were Killed In The Attack
Shooters killed five police officers during demonstrations in Dallas, Texas, on Thursday night. Throngs of people had gathered to protest the shootings of two black men — Alton Sterling and Philando Castile — by police officers in Minnesota and Louisiana this week. According to CNN, this is the deadliest incident for law enforcement in the United States since September 11, 2001. Eleven officers total were shot in the ambush, leaving 5 dead and 6 critically injured. Who were the officers killed in the Dallas shooting?
Update: In addition to Officer Brent Thompson, Officer Michael Krol and Officer Patrick Zamarripa were also killed in the shooting.
The names of all those shot have yet to be released by the authorities. Law enforcement has said that four of those killed were Dallas police officers and one was a member of the Dallas Area Rapid Transit force, or DART, according to The New York Times. DART operates public transportation throughout the city. DART has identified the fallen member of their team as 43-year-old Brent Thompson. According to CNN, he's been working for the agency since 2009 and is the first DART officer to be killed on the job. DART Police Chief James Spiller spoke on the CNN program New Day on Friday and shared that Thompson had been married to another transit officer just two weeks before he was killed.
When the shots rang out, the large crowd of nearly 1,000 people scattered. Though it is clear the shooters were targeting police officers, at least one civilian was also wounded, according to The Chicago Tribune. One witness, Ismael Dejesus, told CNN he filmed the incident from his balcony some 50 yards away. He told reporters that the gunman he saw was armed with a large, rapid-fire assault weapon.
Even after the downtown area was secured, Dallas Mayor Mike Rawlings advised residents to stay out of the area. With the investigation ongoing, the protest route is still an active crime scene. He advised those who work in that part of the city to refer to DallasCityNews.net to see safety updates and news about which buildings have been deemed safe to enter, according to The New York Times.
Rawlings also addressed the people of Dallas this morning, according to CNN. He said, "It is a heartbreaking morning to lose these four officers that proudly served our citizens. To say that our police officers put their life on the line every day is no hyperbole, ladies and gentlemen. It's a reality."
The protest for Sterling and Castile had been organized and planned by an ordained minister named Dominique R. Alexander, according to The New York Times. He was shocked and appalled by the events of last night and told reporters that he "does not condone violence against any human being, and we condemn anyone who wants to commit violence." He added, "I was right there when the shooting happened. They could have shot me."