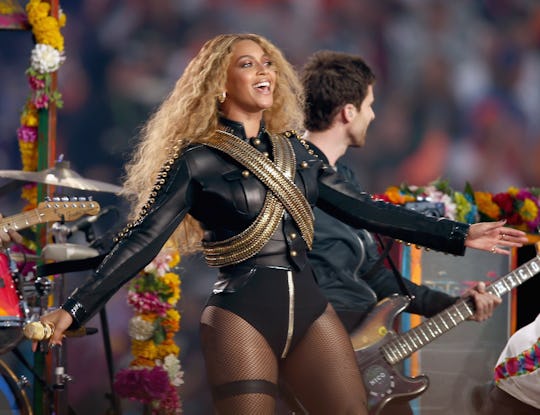 Matt Cowan/Getty Images Sport/Getty Images
Who Will Be In The Beyonce Film? April Is So Close But It Feels So Far Away
Beyoncé fans have a lot to look forward to in April, allegedly. The singer has announced her Formation Tour, kicking off on April 27, and recently, her fan club, The Beyhivé, tweeted that she'll also be releasing an album and a mini film next month. It's important to note that this news is unconfirmed, but the source does have a very good track record of providing accurate information. So who will be in Beyoncé's rumored film? Beyoncé, and The Beyhivé, have not yet commented.
So far, we have very little information about the movie, if it even exists. Back in January, it was rumored that Beyoncé was looking to write and star in a biopic about Saartjie Baartman, a South African woman who was enslaved by a 19th century London freak show, but her representatives released a statement denying the story.
The Beyhivé claims that the film's codename is "Project Lemonade" and tweeted that the "'Formation' music video and Super Bowl is just a glimpse" of what's to come. The group also hinted at the involvement of Kahlil Joseph, a director whose pedigree includes mostly music videos, and used the hashtag #NOLA, so it seems likely that the film will be more like a super-sized version of the "Formation" video we've already seen.
"Formation," and its accompanying video, set in a post-Katrina New Orleans, marked what Saturday Night Live joked was "The Day Beyoncé Turned Black." Both the lyrics and the imagery are an ode to Southern black culture, featuring references to both the light-hearted (wigs and hot sauce) and the serious (Martin Luth King, Jr. and Trayvon Martin). Some say the video, which runs just under five minutes, already feels like an "Oscar-worthy feature" itself. Would it really be a stretch to think that there's a longer version out there, which serves to showcase not the song, but the underlying themes behind it?
But back to the stars. Surely, we can assume that Beyoncé is in it. But how about the rest of the family? "Formation" briefly featured her daughter, Blue Ivy, much to everyone's delight. Might she appear in the film? Or will it be more of a documentary? If that's the case, perhaps there might be a cameo from her old pal Kanye West, who infamously highjacked a Hurricane Katrina telethon in 2005 to tell the world that "George Bush doesn't care about black people." That would fit right in. Either way, fans should be prepared to shell out $9.99, because you know that film's going to drop exclusively on Tidal.