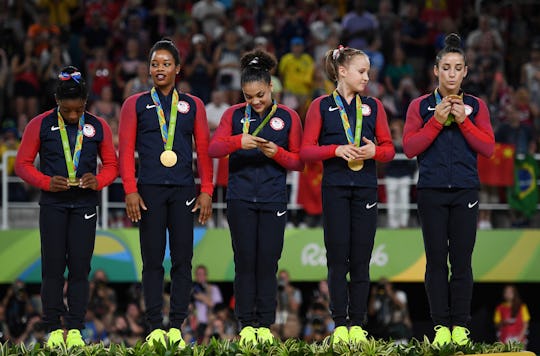 Laurence Griffiths/Getty Images Sport/Getty Images
Who Will Be On The U.S. Women's Gymnastics Team In Tokyo? These Athletes Are Eyeing 2020
The U.S. women's gymnastics team, the "Final Five," as they dubbed themselves, dazzled in Rio, taking home a haul of hardware. The 2016 team won a record-breaking nine medals, including 4 golds from the incredible Simone Biles, who has secured her position as the best women's gymnast ever. But now that the 2016 games have drawn to a close, fans are already getting excited about the next Olympics slated for Tokyo. Who will be on the U.S. women's gymnastics team in Tokyo? Although it's a long four years away, there's no shortage of speculation.
Simone Biles, Laurie Hernandez, Madison Kocian, Aly Raisman, and Gabby Douglas were the five women the entire country came to know and love almost as soon as they made the Olympic team for 2016. With the success of the "Final Five," a name the athletes gave themselves after winning gold in the team all-around, there's already speculation about which gymnasts might return to defend their medals in Tokyo.
Of course members of the 2016 team would have to compete for their spot on the 2020 Olympic team, so no one really knows who will be back in four years. Making things even more competitive, starting in Tokyo the number of team members will be cut down to four gymnasts instead of five, according to Sports Illustrated. But there are three members of the "Final Five" who will likely try to battle back to Tokyo for Team U.S.A.: Aly Raisman, Simone Biles, and Laurie Hernandez.
Aly Raisman
Raisman, who is headed toward retirement age for gymnasts at 22-years-old, sounds like she's open to the idea of competing in Tokyo, adding that she's in better shape now than she was in 2012 and, she told the Associated Press, she's getting "better with age."
Aly also told Matt Lauer, according to E! News, "I'm going to take a vacation, take some time off, and then you know, I never say never. I'm definitely thinking about it."
Simone Biles
Considering 19-year-old Biles is the primo women's gymnast in the world, it would be a huge disappointment to all of her legions of fans, who happen to include Zac Efron, if she didn't return to defend her title in Tokyo. But E! News reported that she told Matt Lauer she's not thinking about Tokyo just yet.
"I don't know," Biles said. "That's a really long ways away. We'll see."
Laurie Hernandez
Considering that Laurie just passed up a college scholarship to the University of Florida to compete professionally and work on gymnastics full time, it's a good bet that you'll be seeing her back in Tokyo. Just before Hernandez's success in Rio, she released a statement announcing her intentions, NBC Olympics reported.
I am excited about what it means to compete at the highest level of this sport and really want to focus on elite gymnastics for the next four years. This was not an easy decision to make, but by making the decision now, it allows me to focus entirely on gymnastics and how I can enjoy this sport that I love.
The other two members of the Final Five are unlikely to make an appearance in Tokyo:
Gabby Douglas
Gabby Douglas will likely retire after Rio, according to ABC News. Douglas was a big star of the 2012 Olympics, becoming the first woman to win gold in both the team and individual all-around competitions. She repeated her gold in the team all-around in Rio and placed seventh on the uneven bars. Following the Rio Games, ABC News reported that Douglas told the AP she has plans to move home to Los Angeles to be close to her family.
Madison Kocian
Kocian plans to wrap up her Olympics career after Rio and head to UCLA to compete at the college level, according to NBC Olympics. She won both the gold in the team all around and a silver in the uneven bars at this year's games.
All five athletes will indeed leave Rio as the "Final Five" and the gymnasts who floored (pun intended) the world with their grit, talent and determination. There will never be another team quite like them, but that leaves the door open for a new squad in Tokyo that hopefully includes at least some of them plus amazing talents we haven't even met yet.