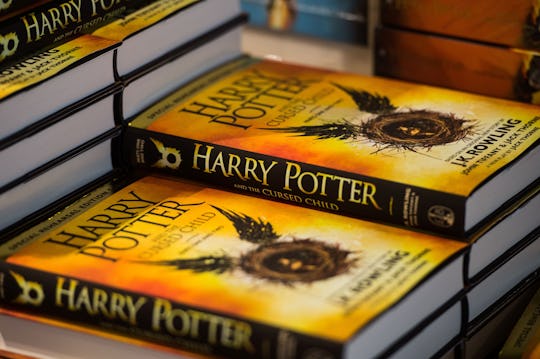 ANTHONY WALLACE/AFP/Getty Images
Who Will Narrate The Audio Version Of 'Harry Potter & The Cursed Child'?
It's been a few days since the world was gifted the unofficial eighth Harry Potter book. And along with some questions about the book itself, fans have additional questions about the future of their favorite series. Things like will there be a movie, can you stream the play, and who will narrate the audio version of Harry Potter and The Cursed Child?
Well, first, there has to be an audio version for someone to narrate. Snitch Seeker, an online forum for Harry Potter fans, reported there are no plans to release an audio version of Harry Potter and The Cursed Child at this time. Both the U.S. publisher Scholastic and U.K. publisher Little, Brown Book Group told the website that there were no plans to record an audio version to accompany the release of the new book. Snitch Seeker added, however, that an audio version may be recorded once a final version of the script is released.
With no plans for a ninth Harry Potter book and no word on a movie version of The Cursed Child, an audio book is the only hope fans have for more Potter in their lives. And, if that's the case, then there has to be an all-star narrator. If Rowling and Co. are looking for suggestions on who should narrate Harry Potter and The Cursed Child here are 13 possibilities.