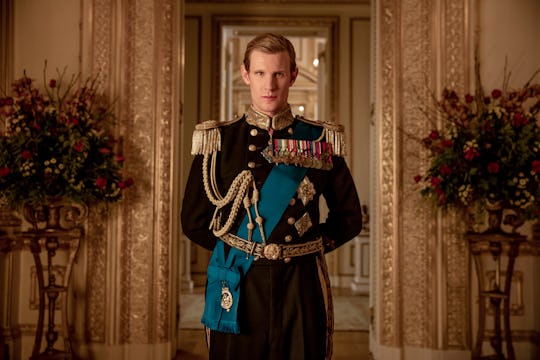 Robert Viglasky/Netflix
Prince Philip Will Look A Lot Different In 'The Crown' Season 3
In addition to doing its best to accurately and fairly portray the history of the royal family, Netflix's The Crown will also do something else a little differently. Since each season is going to span roughly a 10-year time frame, the actors will be swapped out every couple of seasons. Since that means Season 2 will be the final one for a vast majority of the original cast, some of you are probably wondering who will play Prince Philip in The Crowns Season 3? That's right — no This Is Us makeup to make the current actors age each season for the duration of the series. Viewers will instead be introduced to all-new faces.
There are a few actors who could get the job done, but as of right now, none are set in stone, at least where fans are concerned. When Matt Smith, the actor who portrayed Prince Philip for Seasons 1 and 2, spoke to Seth Meyers on Late Night, he was pretty coy with his answer of who will play Philip in The Crown's third season. "I don't know if I know," he said. "I'm not meant to know, but I maybe know." He also added, "I don't want to speculate too much, but yeah, no, he's brilliant... If it's the person I think it might be, and he's incredibly handsome as well."
That doesn't really give much away, but to narrow it down a bit, we at least know that the actor who takes on the role for Seasons 3 and 4 will have to be in his 40s in order to get the age range right.
Right now, the only actor who was announced to replace one of the core cast members in The Crown is Olivia Colman, 43, of Broadchurch fame, who will take over for Claire Foy as Queen Elizabeth II. But that also lends some merit to the apparent rumor that David Tennant, also a Broadchurch alum, might be joining her in The Crown for Season 3, which would serve as a nice reunion for the two talented actors.
According to Express.co.uk, though, the rumors and possibilities of the Season 3 and 4 Philip replacement don't end there. Other names that have reportedly been tossed around are Tobias Menzies, from both Game of Thrones and Outlander, as well as Ripper Street's Matthew Macfadyen, and Paul Bettany of Avengers: Age of Ultron. Honestly, any of those actors could easily pick up where Smith will leave off once his portrayal of Philip has ended at the conclusion of The Crown Season 2, but it will be an adjustment regardless.
Even before The Crown premiered on Netflix in 2016, in all of its royal and multi-million dollar budget glory, it was established that there would be different actors brought in to portray the royal family at different time periods, especially since the series began with Elizabeth taking the crown and the present day, real life Queen Elizabeth II is 91 years old. It would only make sense, then, for replacements to be brought in for the actors as the time period progresses, even if fans have already gotten used to the stars who brought them to life in the show in the first place.
As for what the TV royals will be going through during Season 2 of The Crown (and the last season that will see Foy and Smith as Elizabeth and Philip, respectively), there will be more of that deep look into their marriage as Elizabeth struggles to run the country at the same time. "We shine a light on things which they endured that were very difficult, as any marriage will endure if it lasts that long, but look at them — they look terribly happy at the moment," Smith told The Telegraph.
Unfortunately, it looks like fans will have to wait a little while longer to find out who plays Philip in The Crown Season 3, but there's still one more season to enjoy watching Smith portray the younger version of the famed Duke of Edinburgh.
Check out Romper's new video series, Romper's Doula Diaries:
Watch full episodes of Romper's Doula Diaries on Facebook Watch.