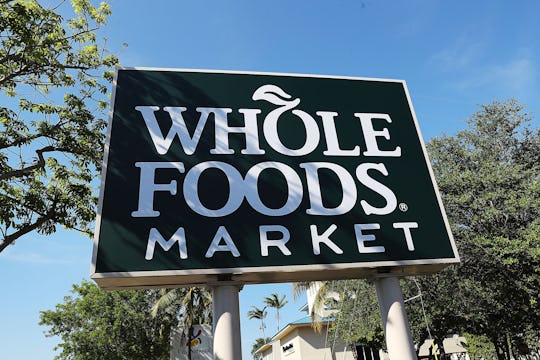 Joe Raedle/Getty Images News/Getty Images
You're Not Going To Want To Miss This Whole Foods Deal On Amazon Prime Day
If you're a regular Whole Foods shopper, you've probably noticed that the check-out process now involves a new question from your cashier: "Are you an Amazon Prime member?" That's because now that Amazon owns the giant natural foods chain, they're rewarding Prime members with special deals on groceries. And if you're not a member yet, that might change very soon: The Whole Foods deals for Amazon Prime Day 2018 are definitely designed to give non-members major FOMO.
The benefits of membership aren't limited to Prime Day, of course. All year round, Prime members who shop at Whole Foods Market will find special deals throughout the store, including an extra 10 percent off hundreds of sale items and special deals exclusive to Prime members. They're easy to find in the store (the extra 10 percent off sale items have yellow signs, while exclusive Prime deals have blue signs), and the savings are pretty significant. In my local Whole Foods, for example, last week cherries were $3.99 per pound for Prime members, and $5.99 per pound for everybody else. (Side note: Were cherries always this expensive?!)
But the deals do get even better for Prime Day. For one thing, from July 11 to July 17, when Prime members spend $10 or more at Whole Foods they'll get a $10 credit to use during the 36-hour "Prime Day extravaganza" (12:00 a.m. PT Monday, July 16 to 11:59 p.m. PT Wednesday, July 18). Whole Foods is also doubling the cash back bonus to 10 percent from 5 percent for Amazon Prime Rewards Visa card holders between July 14 through 17, and first time customers of Amazon's Prime Now delivery service will get $10 off their first order and an additional $10 off a future order.
For faithful Whole Foods regulars, this is serious motivation. Especially considering that Amazon Prime can save you a bunch of money on things that don't come from Whole Foods, too, and comes with such perks as free two-day (and faster) shipping on qualifying Amazon items, free Amazon content to stream, and even unlimited photo storage for an annual $119 subscription fee.
What about the specific items you can expect to go on sale for Prime Day? Discounts on individual products haven't been announced yet, but if the current offerings are any indication, you can expect to have choices from every aisle: Produce, pantry staples like cereal and and crackers, meat, fish, and even vitamins. (Remember, if you're walking through the store, the little blue signs will help you to spot these steals.) These are just a few of the offerings for Prime members on shelves today: