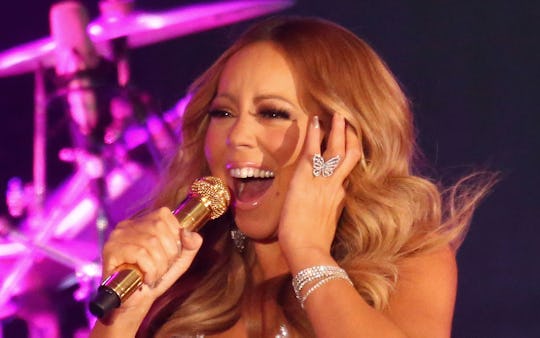 Scott Barbour/Getty Images Entertainment/Getty Images
'Dick Clark's New Year's Rockin' Eve' Will Be Filled With A Ton Of Great Performers
One of the biggest decisions to make when it comes to throwing a solid New Year's Eve shindig is figuring out what channel you want to watch for the big Times Square ball drop. So knowing who's performing on Dick Clark's New Year's Rockin' Eve 2017 with Ryan Seacrest is important to help you figure out whether you'd prefer Anderson Cooper and Andy Cohen's live special instead. There's a pretty long list of performers this year on the Dick Clark special, and the whole broadcast begins at 8 p.m. EST on ABC.
Camila Cabello, Nick Jonas, Kelly Clarkson, Shawn Mendes, Charlie Puth, Khalid, Marshmello, and Sugarland are all performing, some in New York City with Seacrest and co-host Jenny McCarthy and others in Hollywood while Ciara hosts. Britney Spears will also perform in Las Vegas.
Another highlight is that the South Korean pop group, BTS, is also scheduled to perform, according to Variety. Seacrest is stoked about that one in particular, telling Billboard, "I mean they're really big with young people and teens, and I was talking to them a couple weeks ago, their goal is to sell out arenas in America this year. And I think they are on their way to do that." This will be their big chance to make sure everyone knows their name.
That lineup alone should be enough, but it was confirmed last week that Mariah Carey would be making a return to the most iconic stage this year, too. Her performance, which will be just before the ball drops, is a very big deal, since last year she was ridiculed for her performance after an audio malfunction totally ruined the live broadcast.
Carey addressed the mishap in a joint statement with Dick Clark Productions when the performance was announced. The statement read:
We can all agree that last year didn't go exactly as planned and we are thrilled to move forward together to provide America with an incredible night of music and celebration on Dick Clark's New Year's Rockin' Eve with Ryan Seacrest 2018. See you in Times Square!
If you ask me, it's sort of the best way to start the New Year — let's all just pretend 2017 didn't happen at all, right? Seacrest told Us Weekly on Friday, Dec. 29 that he thought Carey was a rockstar for coming back. He said:
Last year wasn't as planned. We all know that. I give her tremendous credit for saying, 'I'm coming back. I'm going on the same stage at the exact same moment before the ball drops in front of tens of millions of people.'
McCarthy felt the same way. "It's a wow! I am really grateful that, not only did she say yes, but that we gave her the chance. It's like, how many times would we love a second chance in life? I know I need about 40 of them," she told the outlet in the same interview. "So I'm honored that she said yes, and I'm honored to be a part of a show that is doing something so nice."
TMZ reported that sources on both sides wanted this repeat performance, since last year, there was a bit of a scandal surrounding the incident. Carey claimed that her audio equipment wasn't working, while the Dick Clark Productions team reported that the star didn't want to do a full on soundcheck before the show, implying that it was all her fault, according to People.
At the time, Carey didn't seem to be too into the blame game, tweeting, "Sh*t happens Have a happy and healthy new year everybody! Here's to making more headlines in 2017."
Hopefully, this year, everything will go as planned and be just perfect. And if not, there's always Dick Clark's Rockin' New Year's Eve 2019.
Check out Romper's new video series, Romper's Doula Diaries:
Watch full episodes of Romper's Doula Diaries on Facebook Watch.