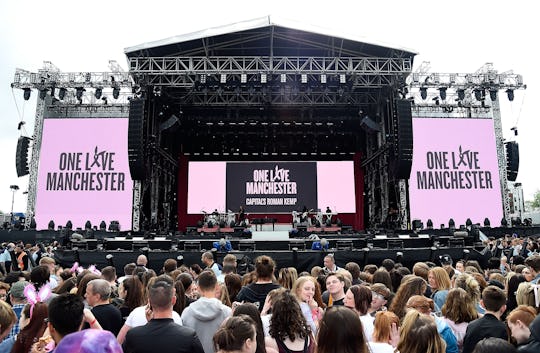 Getty Images/Getty Images Entertainment/Getty Images
Pink Is The Color Of The One Love Manchester Concert
Ariana Grande's One Love Manchester concert is a signal to the world that the pop star will not cower in fear when confronted with a devastating terrorist attack — and that is it so important to her to spread love, solidarity, and the spirit of resilience in the face of such hate. As the concert began Sunday at 8 p.m. local time in Manchester, it seemed like the essence of that message was palpable in the air. More concretely, though, the 50,000-strong audience at the Old Trafford Cricket Ground was a veritable sea of pink. Here's why people were wearing pink at the One Love Manchester Concert.
A suicide bomber killed 22 people when he detonated his explosive device outside Manchester Arena amid a crowd of people leaving Grande's concert May 22. In the weeks afterward, Grande announced that she would return to Manchester for a benefit to raise money for the victims and their families. She also visited children injured in the attack at the hospital. But before the public even knew of the massive benefit starring Grande as well as musical talents like Pharrell Williams, Coldplay, and Miley Cyrus, a symbol of support for those affected by the heinous attack emerged: pink.
According to USA Today, pink balloons had been released from the rafters at the close of the show, and many of the young fans were clutching them when the explosions outside catapulted them into panic. Soon, though, the image of those same pink balloons morphed into a symbol of solidarity with the Manchester victims. At a vigil in Germany, for example, the attendees released some to honor the lives that had been lost and forever altered, according to CBS News. Drawings, photos, and more of pink balloons soon populated any search for the hashtag #PrayForManchester on Instagram and Twitter.
So, it absolutely makes sense that those attending the One Love Manchester Concert would opt to break out the pink, as well. After all, Grande herself said in a statement that the the collective response to the depravity of the terrorist attack should be "to come close together, to help each other, to love more, to sing louder and to live more kindly and generously than we did before."
Of course, wearing pink in and of itself does not mean that any one of us had achieved that goal. But it's a sign that we want to, that the concertgoers agree with Grande's sentiment and do want to live better, and that they'll aim to always remember and celebrate the lives of those who were lose in the senseless attack.