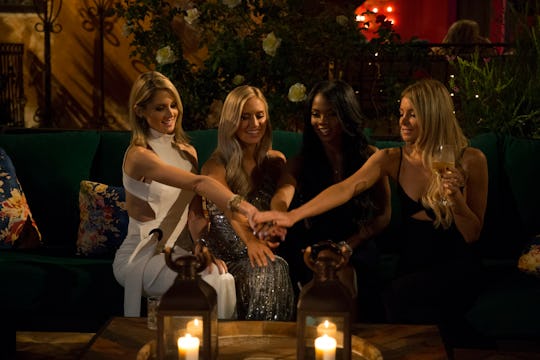 Paul Hebert/ABC
You Won't Believe How Many Of Arie's 'Bachelor' Contestants Have The Same Name
The first few episodes of The Bachelor are always hard to keep up with, since learning all of the contestants' names and assessing their personalities is a pretty major task. Which is why so many fans want to know why in the sacred name of Chris Harrison there are so many Lauren's on The Bachelor this season? Seasoned Bachelor fans know that this happens sometimes. You can't round up a group of 25 or more women and not have a repeat name or two.
Actually, according to New York's Vulture, all of the women seem to generally have the "same name" on the show. The most common names are some sort of Kristen/Christine variation, which you might remember happened this summer, when Christen Whitney and Kristina Schulman took over Bachelor in Paradise. In that case, it was even more confusing because of their spelling, too.
Back in 2013, when New York did this ever important act of journalism, there were no repeat "Laurens," though that changed during Ben Higgins' season when there were also four Laurens: Lauren Barr, or "LB," Lauren H., Lauren R., and Lauren Bushnell.
So is it just chance that led to four Laurens yet again or is this some sort of long running Easter egg joke the producers use to mess with us? We don't know why exactly there are so many Laurens, but we do know we're going to have to do our homework when it comes to remembering who the heck they are. Here are this season's Laurens before we start to dive into what this all means.
Lauren B.
This Lauren is a 25-year-old tech salesperson from Virginia. She hates when her dates text at the table and if she could break any law, she might do right to bring Arie the race car driver with her. "I wish I could drive as fast as I want," she said.
Lauren G.
Lauren G is a 26-year-old recruiter from Indiana who isn't necessarily looking for happily ever after, according to her bio. "I don't necessarily believe in fairy tales, but I do believe in things being meant to be," she said.
Lauren S.
Lauren S. is a 31-year-old social media manager from Texas. Just be thankful she didn't go all Alexis on us, since the animal she would most like to inhibit is way less recognizable than a shark/dolphin. So what's her spirit animal? "An otter because everyone loves you and you just swim around and cuddle all day. Goals," she said.
Lauren J.
She's a 33-year-old recent grad student from Louisiana, which means we can at least hopefully remember her by her accent. She also considers "speeding when she's late" a vice (heads up, Arie) and has a penchant for some Corinne-like munchie habits. Lauren J. said in her bio that her favorite thing to do is, "Eating full meals in bed. Like putting a legit body towel over me and ordering pizza — no plates needed."
The good news is that all four of these women seem to have super distinct looks, personalities, and things that they're looking for in a partner, so Arie might be able to weed out the ones he's not interested in pretty quickly.
In Ben's season, two of the Laurens were sent home almost immediately, and it was only Lauren Barr and Lauren Bushnell that made it through most of the season. However, remember, we had to call Barr, "L.B." and Bushnell "Lauren B." It was very confusing. If history is any lesson, the women with the same name end up having to do a lot more work to stand out. Especially since when ABC made the announcement, some people didn't even remember that there were four Laurens competing in 2016.
But we have handled a situation like this before, and it doesn't totally ruin the fun. However, the "4 Lauren Problem" does really mess with your Fantasy Bachelor scorecard if you think of it. Just in the name of probability alone, it's likely that a single Lauren will end up in the final 10 at least — so no cheating and pretending that you just mixed up their last names when they get they boot! (You wouldn't do that, right?)
That being said, there are other multiples this season, too, to keep things super confusing. There's a Jenny and a Jenna, a Rebecca and a Rebekah, and a Brittany and a Brittane. If Arie doesn't propose to anyone at the end of the season, it might not be anyone's fault at all except the producers, who couldn't just make things easy for the guy. Let's hope he gets some flashcards.
Check out Romper's new video series, Romper's Doula Diaries:
Watch full episodes of Romper's Doula Diaries on Facebook Watch.