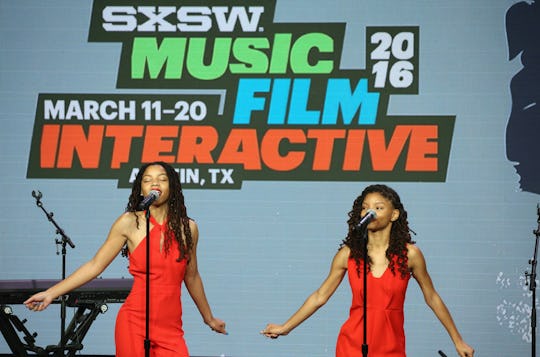 Neilson Barnard/Getty Images Entertainment/Getty Images
Why Chloe & Halle Are The Pop Stars Your Kids Will (& Should) Love
If there's anyone we should trust about music, it's Beyoncé. When Queen Bey isn't busy designing activewear, announcing a new tour, or torturing us with hints about a new album, she's working on a pretty important sideline: discovering new talent. Her music label, Parkwood Entertainment, has signed a massively talented sister duo to its growing roster, and Chloe x Halle are the pop stars your kids will love.
Queen Bey discovered the Bailey sisters after checking out their hauntingly beautiful cover of her song "Pretty Hurts" on YouTube (which is now sitting comfortably around 11 million views since 2013, thank you very much). A nod from Beyoncé is sort of like being touched by the gods, I think, but these girls are definitely earning their chops. The two have become massive YouTube sensations with their covers of songs like John Legend's "All of Me", "Royals" by Lorde, and "Honeymoon Avenue" by Arianna Grande. These girls aren't waiting around to see what happens, they're working it all the time.
Of course, it helps that Queen Bey is taking her role as a key decision maker for Chloe and Halle very seriously. She recently told Elle magazine in an interview:
It's exciting, but having the power to make every final decision and being accountable for them is definitely a burden and a blessing. To me, power is making things happen without asking for permission. It's affecting the way people perceive themselves and the world around them. It's making people stand up with pride.
Chloe and Halle must be "standing up with pride" right now; their first single "Drop" was just released to rave reviews. (Spoiler alert, there's a fantastic horse in the video!)
And here is why your kids are going to love Chloe and Halle — they are genuinely talented. They are bona fide (dare I say it?) Beyoncé-level good. They have a unique sound that won't feel like the "Disney-fication" of grown-up songs, loads of booming base and a dreamy video to match the moody feel of "Drop."
Chloe and Halle are more than just incredibly gifted singers though; the girls co-wrote and produced their first single themselves. Chloe plays the piano and Halle plays guitar and, with Queen Bey as their feminist beacon, these sisters are clearly going to be steered in the right direction.
Beyoncé isn't the only feminist icon Chloe and Halle have in their corner either. In March, the girls were in Austin, Texas, opening for none other than the FLOTUS herself. Michelle Obama was the keynote speaker at the 2016 SXSW Music Festival.
So the good news is, not only will your kids love Chloe and Halle, but I have a feeling you're going to love that they love them. Gifted performers backed by powerful women who are all about empowering our girls to better themselves... what's not to like?