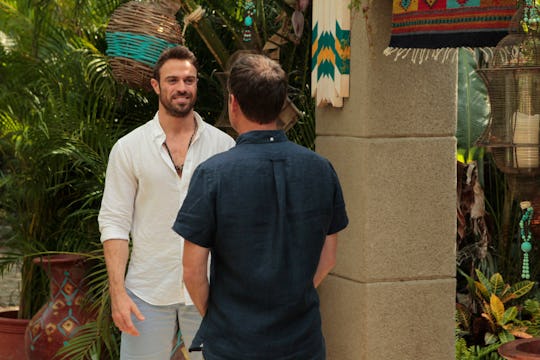 Rick Rowell/ABC
Why Did Chris Harrison Ask Chad To Leave 'Bachelor In Paradise'? He's Stirring The Pot
If we learned anything from Season 20 of The Bachelorette – other than the fact that JoJo Fletcher has a very, very specific type – it's that Chad "The Chad" Johnson is fodder for hours of entertainment. While the reality show villain is by no means a new creation (it's a trope that's been around since the earliest Real World seasons), it's rare to see someone steer into that persona so whole-heartedly. But Chad, bless his little meat-munching heart, did just that – in spades. When Chad was announced as a Bachelor in Paradise Season 3 cast member, it appeared that endless drama was on its way. But why did Chris Harrison ask Chad to leave Bachelor in Paradise at the end of the very first episode of the season?
When Chad first showed up in Mexico, he seemed suspiciously chill and friendly. Evan Bass, one of Chad's archnemeses from JoJo's season of The Bachelorette, was super wary of his newly relaxed demeanor, immediately concerned that Chad's "Let's bury the hatchet!" vibe was all a front – or that Chad had accidentally taken a "happy pill" instead of steroids and/or protein prior to showing up. Cue groan at Evan's too-obvious jokes. Ugh, Evan.
From an audience perspective, Chad's 'tude definitely seemed too good to be true, especially given that we've all already seen that the hatchet was most definitely not buried when both men appeared on JoJo's "Men Tell All" episode.
Lo and behold, it was too good to be true. While Chad initially seemed more interested in bonding with his pal Canadian Daniel and resisting the urge to tear Evan's head off, he quickly devolved into the Chad we've all grown to know and love-hate.
His very, very brief flirtation with Lace was cute at first, when the two appeared to match wits and have romantic sparks, but Chad quickly took it way too far, calling Lace a "crazy bitch" (among other, even worse bleeped-out expletives) in between make-out sessions. Lace finally had enough and blew Chad off, realizing that he is "mean" and that she was disappointed in how he'd turned out to be.
A very drunk Chad continued to spiral, despite Canadian Daniel's half-assed attempts at calming him down, eventually stalking across the beach alone and growling like a cartoon villain. Chad also eventually took a way uncalled-for jab at Sarah Herron for her physical disability, after she called him out on his horrendous behavior, sexist remarks, and all-around negative energy. Not cool, Chad.
The next morning, after sleeping off a probably-tremendous hangover, Chad was booted by a no-nonsense Chris Harrison for his awful, disrespectful behavior and continuing to be "glib" when confronted about it. Chris told him that Chad had managed to turn paradise into hell in the span of one day and escorted a furious Chad out, as Chad was complaining about how he'd been made to look like a "bitch" yet again.
Of course, we didn't actually *see* Chad leave for real, and next week's promo definitely seemed to show Chad up to his same old antics in paradise, so there might be a second (third?) chance for Chad on the horizon. We'll have to tune in next week to find out if Chad will be getting yet another shot at redemption.