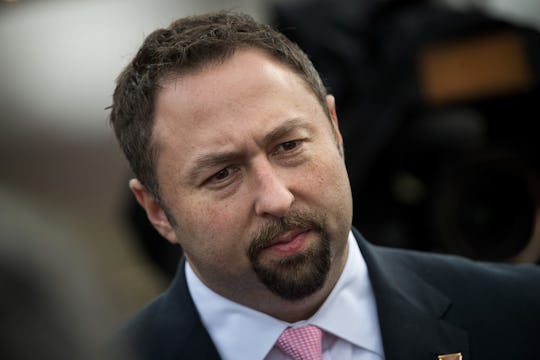 Drew Angerer/Getty Images News/Getty Images
Why Jason Miller Declined His White House Position
Just two days after Donald Trump chose who he wanted to be his White House communications director, Politico reported that Jason Miller backed out of the Trump administration position. Miller — who is currently a top spokesman for the president-elect — has been an avid Trump supporter and a regular member of the president-elect's team for months. So his abrupt decision has led many to wonder why he's opted not to take the key White House position, a role that essentially ensures that the administration's messages are successfully delivered to the public. Romper reached out to Trump's team for comment on Miller's decision and is awaiting a response.
According to a statement to Politico, Miller said he's decided to decline the position because he wants to spend more time with his family as his wife prepares to give birth to their second child next month.
"After spending this past week with my family, the most amount of time I have been able to spend with them since March 2015, it is clear they need to be my top priority right now and this is not the right time to start a new job as demanding as White House communications director," Miller said in a statement, according to Politico. "My wife and I are also excited about the arrival of our second daughter in January, and I need to put them in front of my career."
Trump was reportedly informed about Miller's decision on Friday night. According to CNN, Miller said he will hand off the position to Sean Spicer, who is the Republican National Committee communications director Trump tapped to be the incoming White House press secretary. Spicer will reportedly take on both communication roles and Miller will continue to work with Trump's transition and eventually in the future, but not in an administration position.
"I look forward to continuing to support the President-elect from the outside after my work on the transition concludes," Miller said in the same statement to Politico.
Trump's White House press team will reportedly include longtime staffers Hope Hicks as director of strategic communications, who served as press secretary on Trump's campaign, and Dan Scavino as director of social media, who has reportedly known Trump since he was 16 years old and became trusted "member of Trump's inner circle", according to CNN.
"Sean, Hope, Jason and Dan have been key members of my team during the campaign and transition. I am excited they will be leading the team that will communicate my agenda that will Make America Great Again," Trump said in a statement earlier this week, according to CNN.
Miller's decision followed another announcement from Trump's team on Christmas Eve, which said in a statement that the president-elect is reportedly planning to shut down the Trump Foundation "to avoid even the appearance of any conflict with my role as President" as he prepares to enter the Oval Office next month.
With Inauguration Day less than a month away, there are still many uncertainties about the incoming administration and Miller's decision has added even more questions about Trump's key communications team.