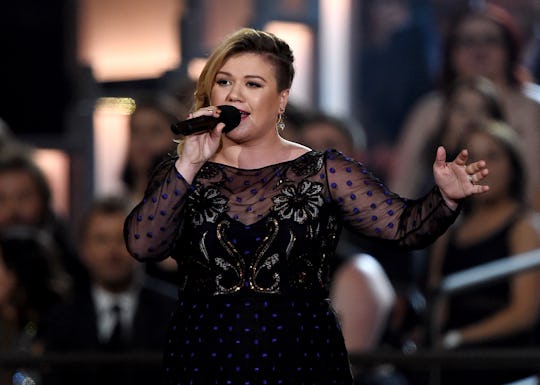 Ethan Miller/Getty Images for dcp
Why Did Kelly Clarkson Name Her Baby River Rose? The Singer Says It Was An Easy Choice
The last few years have been mighty fine for American Idol alum Kelly Clarkson. And not just because she has turned out to be a veritable hits machine either (who doesn't know every single word to "Since You Been Gone" or "Heartbeat Song"? Which are both now stuck in your head, I know. You're welcome.) The singer married in 2013 and had her gorgeous little daughter River Rose in June of 2014, with another baby due in the near future. Oh — River Rose, you ask? That's not a name you hear every day, right? So why did Kelly Clarkson name her baby River Rose?
"We live on a river, so it wasn't that creative." the singer told People magazine last February. "We were outside on our balcony, and we both looked at each other and were like, 'What about River? That's kind of cool."
The singer and her husband, talent manager Brandon Blackstock, were both fans of androgynous names, and Clarkson likes alliteration. The middle name Rose is in Clarkson's mother's maiden name so it all worked out in the wash. And how does the Grammy-nominated singer ("Heartbeat Song" was nominated for Best Pop Solo Performance,"Piece By Piece" was nominated for Best Pop Vocal Album) feel about her new life of domestic bliss? A little something like this:
I mean look at that face! And I'm not just talking about edible little baby River Rose either. Clarkson has never looked happier. She has taken to motherhood like a duck to water, even penning a children's book due out Oct. 4. River Rose And The Magical Lullaby. Cute, right?
She has clearly taken to being a stepmom to husband Blackstock's two children from a previous marriage as well. With a super sweet Christmas card that makes me insanely jealous — why didn't I think of that?
By all accounts, Blackenstock's children Savannah, 13 and Seth, 7 are loving the time they spend with their extended family. Even Blackenstock's ex-wife Melissa Ashworth White is gushing over baby River Rose, recently telling Radar, "It's a love I can't explain, she is a part of my kids. She is the third most precious baby in my life."
Which is such great news for Clarkson, who is clearly striving to heal some of the wounds she still carries from her own parents' divorce. Creating a healthy, happy family is an important part of her life. And with baby number two on the way to join River, "the happiest baby on the planet", it looks like this is yet another goal the 32-year old will reach.
"I've accomplished a lot," she told Hello magazine last year. "but I guess the biggest success I want is that whenever I die people will say, 'She was so successful as a mother and a wife.' That's kind of my big goal."
Whatever happens at the Grammys Monday night (which start at 8 pm. EST on CBS), Clarkson looks to be one happy mama.