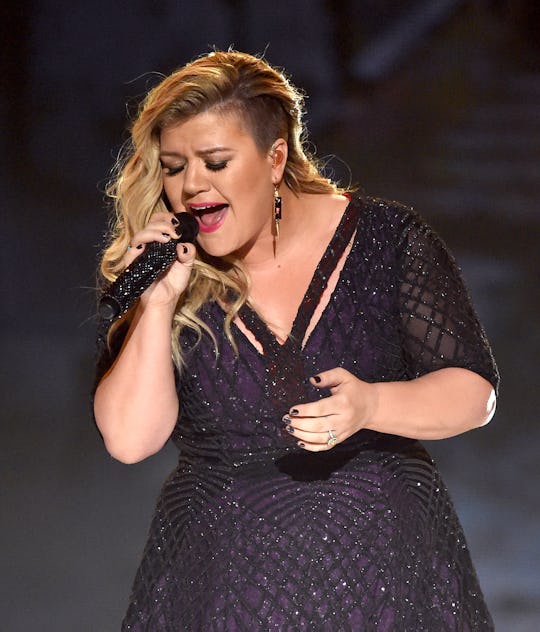 Ethan Miller/Getty Images Entertainment/Getty Images
Why Did Kelly Clarkson Name Her Son Remington Alexander? Its Meaning Will Melt Your Heart
There's some seriously sweet news for Clarkson-Blackstock fans today, since Kelly Clarkson gave birth to a baby boy and announced his arrival on Twitter. Baby Boy Blackstock, whose name is Remington Alexander, joins big sister River Rose, and it sounds like Kelly and her husband, Brandon, have bit of an R-theme going on when it comes to names for their kids. But why did Kelly Clarkson name her son Remington Alexander? Despite the fact that Kelly and Brandon seem to be giving their kids all R-inspired names, Remington's not exactly a common name, so where'd they get it?
When Kelly gave birth to her daughter River Rose, she told PEOPLE that she and her Brandon had used the world around them to inspire their daughter's name. She said that though they'd been "going back and forth on what to name her," they hadn't exactly found one that clicked. Clarkson added that she "likes androgynous names," and so it was only a matter of time before they used what they knew (or, better yet, what surrounded them) in order to settle on a name for their daughter. She told PEOPLE:
We live on a river, so it really wasn't that creative. We were outside on our balcony, and we both looked at each other and were like, 'What about River? That's kind of cool.'
And after announcing that she was pregnant again with a boy, it was all ears when it came to what Kelly would name her son. Now, however, we know: Remington Alexander. Which, let's be honest, is absolutely adorable and charming, and the perfect little name for a little boy to grow up and into. If they want, they can nickname him "Remy," and if they don't, "Remington" is just as sweet. But it's the inspiration behind the name that I absolutely adore.
According to Nameberry.com, Remington means "place on a riverbank," and I absolutely love that the name has ties to both the family's home (they live in Nashville, currently), as well as to his big sister. Remington is the second child for Clarkson, and fourth for Blackstock, who has two children — Savannah and Seth — from a previous relationship, and I love how much literal meaning exists between all of the names in the ever-growing Clarkson-Blackstock brood. Not only does R come before the letter S in the alphabet (which is a really cool play on their birth order, IMHO), but Remington Alexander's place in life will always be alongside his sister, and I adore just how meaningful that must be for the proud parents.