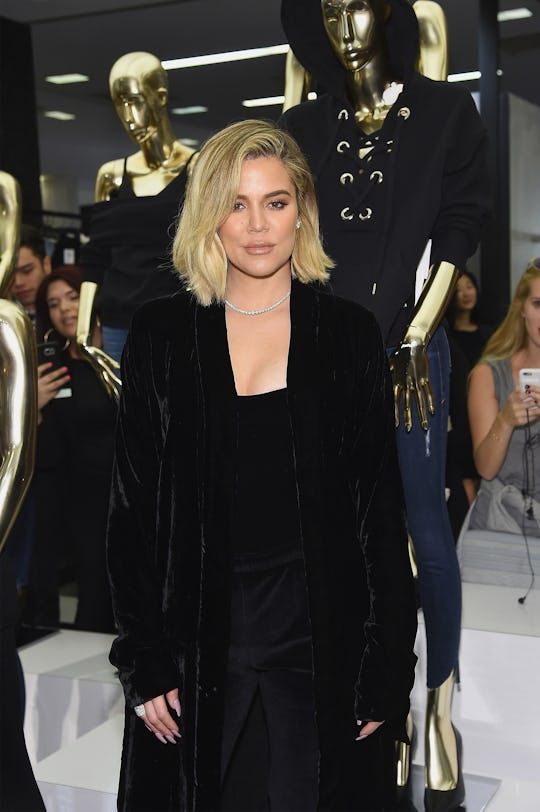 Jamie McCarthy/Getty Images Entertainment/Getty Images
Here Are A Few Reasons Why Khloe Waited To Announce Her Pregnancy
Rumors of a Kardashian-Jenner baby boom have been swirling for months, and while the jury is still out on whether or not Kylie Jenner is, in fact, expecting her first child, older sister Khloé Kardashian has finally confirmed her pregnancy after lots of speculation. On Wednesday, Dec. 20, Khloé Kardashian announced that she is expecting her first child with her boyfriend Tristan Thompson, and as expected, the news has caused a lot of excitement on social media. But why did Khloe Kardashian wait to announce her pregnancy? Aside from the obvious reason that no woman should ever have to publicly discuss her pregnancy if she doesn't actually feel comfortable doing so, there are actually a number of reasons why Kardashian may have felt it would be better to wait before she shared the news with the world.
Fans of the famous family were pretty surprised to hear back in September that Khloé Kardashian may have been pregnant — at the time, Us Weekly cited unnamed sources who confirmed that Kardashian was expecting — primarily because only a few days prior, TMZ reported that 20-year-old Jenner was set to welcome a baby with her boyfriend, Travis Scott. And given that Kim Kardashian was also preparing to welcome another child (this time with the help of a gestation surrogate)? Well the news definitely felt like a bit of a whirlwind.
In reality though, Khloé's pregnancy probably shouldn't have been that much of a shock. After all, in the Season 13 finale of Keeping Up With The Kardashians in June, the reality star revealed that she and Thompson were talking about having lots of children together, according to Us Weekly, and she also shared that she was no longer on birth control. In other words, a baby was totally in the cards for the couple, and in an early-September interview with You Magazine, Khloé gushed about her relationship with the Cleveland Cavaliers player, telling the magazine, "I'm in the best relationship I've ever been in and it doesn't take a ring for me to feel that way."
Despite fact that there were plenty of clues backing up Khloé's rumored pregnancy though, she still stopped short of actually confirming the news — as did the various members of her famous family.
Like many first-time mamas-to-be, it's reasonable to think that Khloé wanted to wait until further along in her pregnancy before sharing the news, although in October, Us Weekly reported that the star was already more than 20 weeks along, and that she and Thompson had already learned that they were having a baby boy. Of course, there's no rule that says a woman can't keep her pregnancy private well into the second trimester, but there were also likely other factors influencing her decision.
For one, there was the fact that Kim had a baby on the way, and while news of her surrogate's pregnancy was already pretty well-established, the star hadn't yet spoken openly about the process. In early November though, Kim shared the details of her baby shower with the world, and in subsequent interviews, she also spoke about her decision to use a surrogate, and that the fact that she isn't physically pregnant has made it harder for her young children to properly understand what's actually going on. In other words, it sounds like Kim may have wanted to wait until closer to her baby's due date to speak about the pregnancy publicly — and given that Kim's baby is due first, it doesn't seem at all unusual that Khloé may have wanted to wait until after her sister's baby shower before she shared her own pregnancy news.
It's also possible though that Khloé wasn't even planning on announcing her pregnancy at all, but instead that it was just getting too difficult for those in the Kar-Jenner circle to continue keeping the news of her pregnancy a secret. In a recent visit to The Late Late Show With James Corden, Kim sat down with the host for a game of "Spill Your Guts or Fill Your Guts," and when asked to confirm her sisters' rumored pregnancies, the star ultimately refused, downing a sardine smoothie instead, according to USA Today (now that is loyalty!). Then, Kar-Jenner matriarch Kris Jenner played coy when asked about the rumors during a recent appearance on The Ellen DeGeneres Show according to Billboard, and said, "I can feel where this is going. She's trying to trick me into confirming pregnancies."
But it turns out that Jenner may have accidentally shared too much in an recent post on Instagram. According to People, Jenner snapped a pic of a collection of pajamas she'd picked up "for every one of [her] grandchildren," and sure enough, there were three additional sets that didn't have names attached to them. Coincidence? It's possible, but with followers convinced that this was an inadvertent confirmation of her daughters' pregnancies, Khloé may have just decided it was time to speak up about the news, once and for all.
But given the scrutiny that Kylie Jenner has been under though after news of her rumored pregnancy broke, it's also entirely reasonable to think that maybe Khloé just wanted to take some of the heat off of her young sister by going public. After all, as much as Jenner is a prominent public figure who has made a literal fortune off of sharing the details of her life with the world, she's also just a 20-year-old woman who has reportedly found herself unexpectedly pregnant.
That can be a hard adjustment for anyone to deal with, even if they are excited about it, and even if they more than have the resources and support to raise their child. But with both paparazzi and eagle-eyed fans constantly on the look out for any hint of a baby bump on the star, it makes sense that big sis Khloé might have decided to take one for the team and confirm her pregnancy, whether she was planning on it or not. In other words, it could be less a question of "why did Khloé wait so long?" and more a question of "why did she come forward now?"
Either way though, it seems that only Khloé will truly know the answer to that question — and that, really, she has no responsibility to reveal it if she doesn't want to. It makes sense, of course, that there has been so much fascination and speculation over the Kardashian and Jenner pregnancies, particularly since they live their lives so publicly, and since the news seem to come completely out of nowhere. But they are still also real people with private lives they are entitled to. And with something as life-changing as a pregnancy, it's not exactly surprising that Khloé may have wanted to keep this one to herself for a while.
Check out Romper's new video series, Romper's Doula Diaries:
Watch full episodes of Romper's Doula Diaries on Facebook Watch.